2018.07.20
Work it like it's the 60's! Neo Blythe Sarah Shades Coming Soon!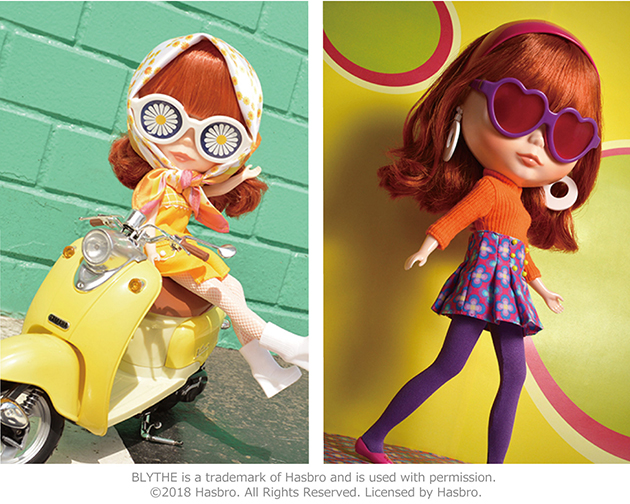 The Monkees are playing tonight, and I can't miss them!
I can't wait to get to the concert decked out in my favorite 60's outfit.
It's gonna be a great time!

Sarah Shades loves 60's fashion!
Her outfits are always filled with pop and humor. The best part of her looks are her colorings and accessories, with an accent on vivid colors, flower and heart motifs, and a cute retro look.

Her outfits are a no sleeve dress, and a high neck top with a pleated mini skirt.
Her head accessories are a flower printed scarf, and a wide head dress. She has two pairs of sunglasses, a purple heart shaped pair and a white circle shaped pair that has flower prints.
The earrings are a versatile pair of white hoops.
The bottom half of her look is a mesh and purple pair of tights, and a pair of flats and short boots.
With this many options to choose from, coordinating her look will be a blast!

Her face type is radiance renew, and her face color is fair.
Her hair is a reddish brown that is cut straight across the bangs with a slight perm.
Her eyeshadow is green, and her cheeks are orange. Her lips are salmon pink.
Her eye chips are blue, pink, green, and orange, all default colors.

Face Type: Radiance Renew
Face Color: Fajr
Makeup: green eyeshadow, orange lip, salmon pink cheek
Eye Color: orange (front), blue (right), pink (front), green (left)
Eyelid: default
Eyelash: default
Hair Color: reddish brown
Earrings: white hoops
Manicure: orange
Set Includes: Doll, dress, high neck top, skirt, scarf, headdress, sunglasses (circle and heart-shaped), ear ring, tights (mesh and purple), shorts, shoes (flats, boots), and stand (16 cm)

Release date: August 24, 2018
MSRP Price: 17,900 JPY
*Hair has been combed in the photo.
*Details are subject to change.
Junie Moon Online Shop International https://www.juniemoonshop.com/