2019.04.18
New Blythe Flat Pouch Designs!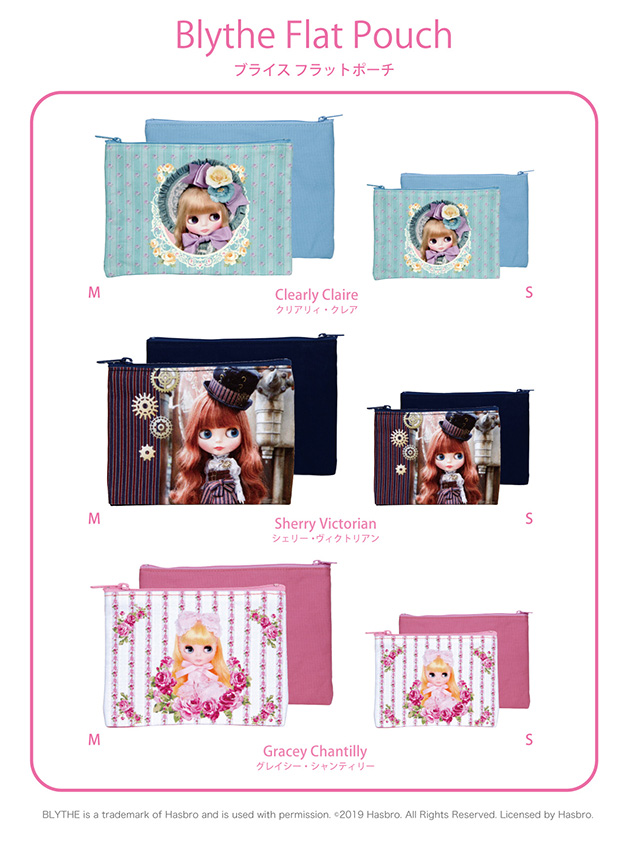 The No.1 most sought after Blythe Item is back with new designs! The compact S size and the more robust M size is here!
Designs include 17th Anniversary Doll Unicorn Maiden, the steampunk dilettante Sherry Victorian, the bisque doll-esque Clearly Claire, and the cute ice cream shoppe attendant Smiley Waffle!
*All designs come in both S and M sizes that are available on the same day.
Blythe Flat Pouch S
Clearly Claire, Sherry Victorian Goggles, Gracie Chantilly
Size: H10.5×W14cm
100% Cotton, lining.
Made in Japan
Available April 27th 2019 *Available first at all CWC affiliated stores.
1200 JPY +tax
Blythe Flat Pouch M
Clearly Claire, Sherry Victorian Goggles, Gracie Chantilly
Size: H15×W21cm
100% Cotton, lining.
Made in Japan
Available April 27th 2019 *Available first at all CWC affiliated stores.
1700 JPY +tax