2020.02.03
Big Collaboration Information for Spring 2020 ★ Announcing CWC Exclusive Neo Blythe "Wishful Blythe & Stardust Cinnamoroll"!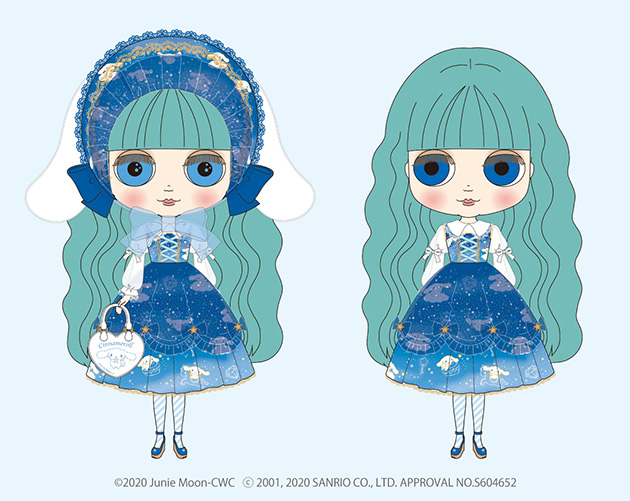 Sanrio's Cinamoroll will be our first collaborator this year! See how
Blythe and Cinamoroll's world collide!
Story
Look up into the sky full of sparkly stars and find Cinnamon watching lovingly down upon Blythe.
Wishes come true for those that believe and it is certain they both do.
Blythe makes a wish and Cinnamon sprinkles magic stardust on Blythe.
Wonderful is their love.
Wishful Blythe & Stardust Cinnamon.
roll wears a lolita outfit covered in
Cinnamon and stars. The puff-sleeved blouse and tulle pannier skirt
give it a very light look. Her bonnet is Cinnamon-eared and very cute!
We used a lot of torsion lace and organza.
Her accessories include a heart-shaped handbag, diagonally striped high socks, and strap shoes with stars on the toes.
Her face type is Radiance Renew, and her face color is a translucent cream.
Her hair is long with bangs and a loose perm, and the hair color is a mix of light blue and mint green.
Her eye shadow is brown, cheeks pink, the lips a plump pink, and the eyelashes a special brown.
Her eyes have a special light blue color with a star print on the front-facing eye chip, a warm gray on the right, and light pink on the other front-facing eye.

Available: April 2020
Price: ¥26,500 (without tax)
*This product is sold exclusively within CWC affiliated event shops in Japan.
It will not be available through the Junie Moon International Online Shop.