2020.09.17
Introducing a brand new CWC exclusive Middie Blythe, "Apple Jamlicious"!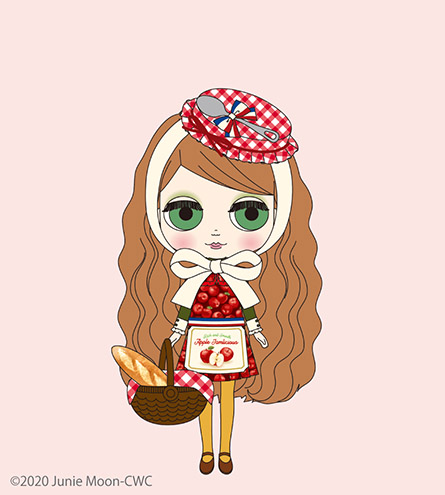 Peel the apple first, chop into small pieces and cook till the sauce smells like heaven.
Add the peel into your pot and it will become rich and smooth and jamlicious.
Apple Jamlicious' fashion is all about, you guessed it, apples! From the apples on her dress, to the jar top head dress, everything is adorably considered.
The dress combines a blouse and apple print dress with an apron printed with illustrated apples that looks like it could smell so delicious and fruity.
The red checkered headdress is accented with a small silver spoon.
Tie it on with a bow knot under her chin!
She wears yellow tights and a pair of one-strap shoes.
The basket, drawn with a checked napkin, contains a baguette. Enjoy it with some tasty applesauce....
Her face color is cream.
She has long, side-parted hair, and her hair color is red.
Her eye shadow is green, blush and lips are pink.
Her eyes are olive green.
The illustration is a representation of the design. Final product may vary from the design.
Scheduled release date: November 2020.
Retail Price: 12,900 yen (excluding tax)