2020.11.13
Shirley Temple X Blythe is now available as, CWC Exclusive Neo Blythe "Princess Shirley Blythe"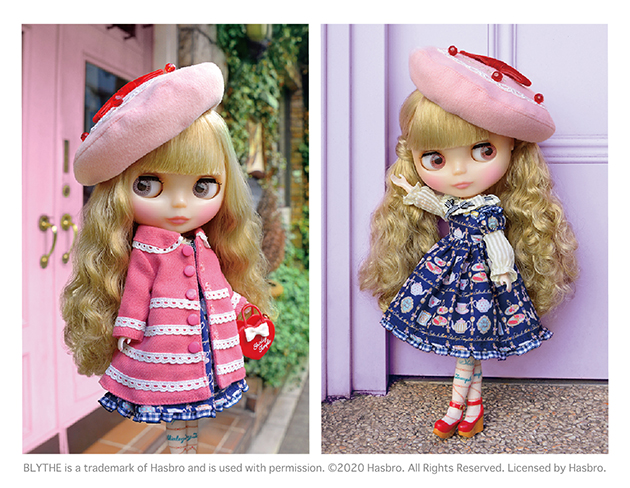 I'm so happy to wear such a beautiful dress! ♪
I feel like a princess in my Shirley Temple clothes ★
I love "Shirley Temple" because it's a girl's dream come true.

The fashion for Princess Shirley Blythe are true to the original Shirley Temple collection.
The blouse, jumper skirt and coat are styled with sweet accessories. ★
The blouse has a sheer, elegant look. It features elaborate details including gather cuffs and a ruffled collar with a small black and white ribbon through it.
The jumper skirt has puff sleeve and a voluminous gathered skirt with pannier underneath.
The jumper features an original Shirley Temple print with tea tins, teacups, spoon and forks. It invokes the sweet taste of tea time!
She wears this with an A-line cost adorned with little lace and a fabulous beret for a day out on the town!
The beret features the embroidered Shirley Temple logo, velour bon, beads and lace. She has a heart shaped tote bag.
She has knee high socks featuring the brand logo with ruffles.
She wears single strap shoes with a platform sole. The shoe is red with a brown sole and gold painted hardware.

Her face type is Radiance Renewal in translucent cream color.
She has long light brown, permed hair with bangs.
She has brown eye shadow, brown eyelids, special edition black eyelashes, baby pink blush, plump lip shape with baby pink gloss.
Her eye colors are light blue, light pink, blue green and light purple.

Face Type: Radiance Renewal
Face Color: Translucent Cream
Makeup: Brown eye shadow, baby pink blush, baby pink gloss lips with a special plump lip shape.
Eye Color: light blue, light pink, blue green, light purple.
Eye Lids: Brown
Lashes: Special Edition Black
Hair Color: Light brown
The Set Includes: doll, blouse, jumper skirt, coat, hat, bag, socks, shoes, shorts stand.

* Final product may differ from this image.

Release Date: December 4, 2020
Price: 24,900 JPY

* Due to licensing restrictions this product is only available in Japan, China, Korea and Singapore.