2021.05.07
Introducing CWC Exclusive Neo Blythe "Lady Panacea" illustration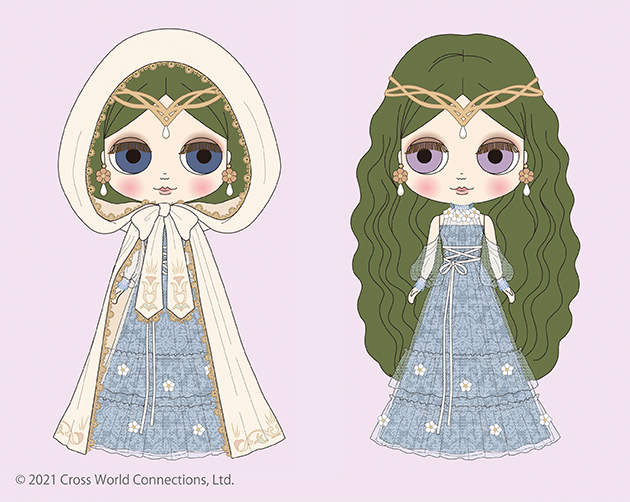 She is the goddess of healing born from the blessings of nature.
Her heart is pure like water and burns like fire.
Her power comes from the moon and stars. Animals and children gather around her.
She drives away the darkness of winter and infuses us with the power of rebirth and spring.
Lady Panacea is dressed in a long tulle dress, hooded cloak, and decorative crown for a mystical look. The top and skirt of the dress are made of tulle over a floral fair with see-through sleeves.
The skirt is decorated with ruffles and flowers and has a silhouette that pulls a short train.
The cloak is embroidered with gold toned designs of flowers and grasses.
Her accessories include a hair ornament with a beaded pearl chain and earrings with flower and drop pearl motif.
She is wearing white high socks and strap shoes.
Her face type is Radiance Renewal with a skin type of Snow.
She has a long, center part hair with a loose perm in olive green.
The eyeshadow is a gradient of brown and pink, the eyelids are light brown, and she has special brown eyelashes.
Some of the special details include her new eyelashes, special color lips of dark pink upper and pink on the lower.
Her eye colors are: dark blue, light blue, light purple, and brown.
* This is an illustration image and may differ from the final product.
Retail Price: 28,490 JPY (tax in.)