2021.05.28
CWC Exclusive Neo Blythe Lady Panacea final announcement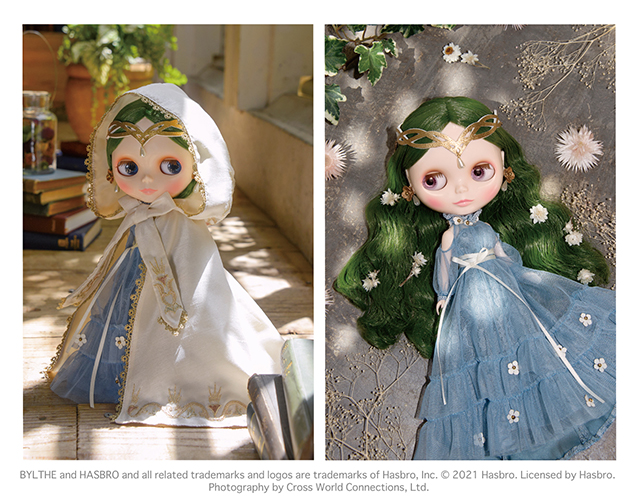 Lady Panacea is a goddess who has the power of healing and infuses people with the power of regeneration.
She heals people and animals and is loved by all.
She will be there to help us, no matter how difficult things may be!

Lady Panacea wears a long dress made of floral lave and tulle with a graceful look.
The skirt is loose and full of tulle ruffles and accentuated with white flowers.
The softly shaped sleeves open at the shoulders and the silhouette of the skirt has a perfect train.
The cloak is made of chantilly fabric, embroidered with flowers and plants in pink, yellow and green with gold trimmings and a decorated gold braided edge.

The headpiece is made of gold vegan leather with a chain and faux pearl beads.
The earrings are a selection of gold flowers and drop pearl motifs.
For footwear, she wears white net high socks with gold strap shoes.

The face type is Radiance Renewal and the face color is Snow.
She has long, loosely permed hair with a center part in a lovely olive green (new color).
She wears brown and pink gradation eyeshadow, light brown eyelids, and special brown lashes.
She has pink blush and a special lip of dark lip upper lip with pink lower lip to give a dimensional effect.
Ever the eyecolors are special: dark blue right, light blue front, light purple left and brown front.

The eye change charm is the shape of a gold leaf and the stand is gold and bronze colors.

Face Type: Radiance Renewal
Face Color: Snow
Makeup: Eyeshadow brown and pink, lip dark pink top/light pink bottom, blush pink
Eyecolor: dark blue right, light blue front, light purple left and brown front.
Eyelids: Light brown (molded color)
Eyelashes: Special brown
Hair Color: Olive Green
Earrings: Yes, flower and pearl charms
Manicure: Light pink

Set includes: doll, long dress, hooded cloak, hair accessory, shorts, earrings, socks, shoes and stand.

* Specifications are subject to change without notice.

Release Date: June 18, 2021
Retail Price: 28,490 JPY (tax in.)