2021.07.27
Summer is here! The heat is upon us, how are you keeping cool?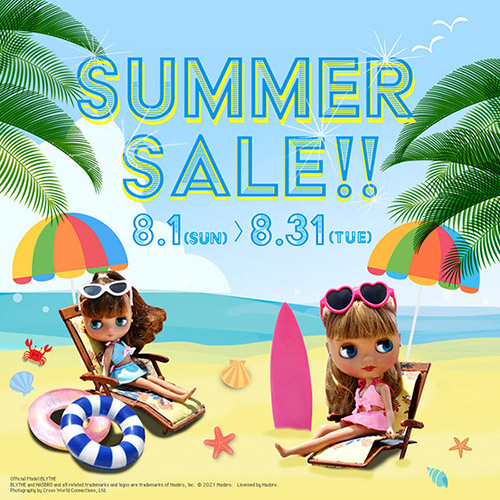 The Annual Junie Moon Summer Sale starts August 1st. We will also have a summer fair with exclusive discounts on novelties!
Our Junie Moon stores are also open for in person shopping in August.
* Junie Moon Summer Sale *
Enjoy up to 50% off Blythe goods, Jeffrey Fulvimari Goods, Dear Darling and more!
Summer Sales shopping brings many cool deals
Duration: August 1- August 31
* Please note, the online store will be closed for maintenance on July 31 (21:00-24:00) and September 1 (9:00 - 12:00).
Summer Fair 1 * Neo Blythe 20th Anniversary Trading Sticker Novelties for August *
Dear Darling, Blythe goods, and Jeffrey Fulvimari goods are all eligible for this promotion. You will receive one sticker randomly for every purchase of 3,000 JPY or more.
Enjoy these special August release stickers.
Please check the store blog for the three new August patterns.
Distribution conditions
Random distribution of one target product for every purchase of 3,000 yen (tax included) or more
* One for 3,000 yen, two for 6,000 yen, and so on. One for every 3,000 yen will be distributed even within one transaction. The payment amount cannot be added up. (Shipping fee is not applicable.)
* You cannot choose the pattern. If you are eligible to distribute multiple copies in one transaction.
Promotion is only applicable for the following items: Dear Darling, Blythe goods, and Jeffrey Fulvimari goods.
Duration: Orders placed on Tuesday, August 1, 2021 to shipped on Tuesday, August 30, 2021
* There is a limited amount available. We will not take requests for the stickers as they will be given at random.
* Available only while supplies last.
Summer Fair 2 * Dear Darling HAPPY BAG *
There will be a special Dear Darling HAPPY BAG promotion for cute coordinated sets!
We have prepared 4 different sets at great prices, so be sure to check them out!
22cm Doll Size Set (3 types)
Price: 9,800 JPY
20cm Doll Size Set (1type)
Price: 7,200 JPY
Duration: August 1- August 31, 2021
Fun Project: Vote for Dear Darling fashion for dolls coordination battle!
Dear Darling fashion for dolls will present their summer coordination recommendations.
Each store will hold a coordination battle. Every Tuesday in August, you can vote on Instagram and Twitter.
Please vote for your favorite coordinate every Tuesday in August on the Junie Moon Instagram and Twitter!