2022.03.14
Neo Blythe "Blue Rabbit" Illustration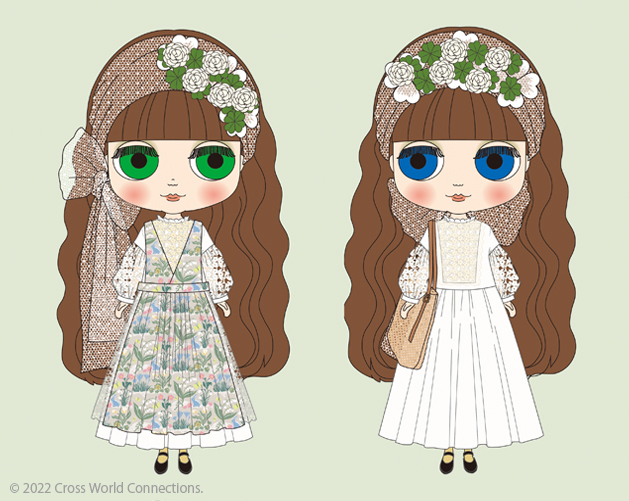 The air is fresh and crisp this morning as I take a stroll in a field of wildflowers and butterflies.
The sweet scent of the lily of the valley fills me with happy thoughts when suddenly a blue rabbit hops by.
Nature is always full of amazing surprises.
"Blue Rabbit" is a fashion line with a natural feel that gets its inspiration from nature. The white one-piece dress has a variety of textured fabrics layered with a textile apron dress with blue rabbits and butterflies. The base is lily of the valley with flowers. She wears a semi-long petticoat in the dress. The head accessory has clover accents on tulle with a hemp basket bag. She is perfect for a walk in the meadow.
She wears green socks and black strappy shoes.
Her face type is Radiance Evolution in the color Fair.
She has light brown hair that is long with a loose perm and bangs.
She has light green eyeshadow with salmon pink lips and cheek.
The eye color is a special light brown in a frontward gaze,
* This is an illustration drawing. Final item may differ from the illustration.
Release Date: July 2022
Retail Price: 20,350 JPY