2022.06.21
On June 24th, Blythe"Crochet Coordinating Book for Year-Round Enjoyment" will be released by Vogue Japan!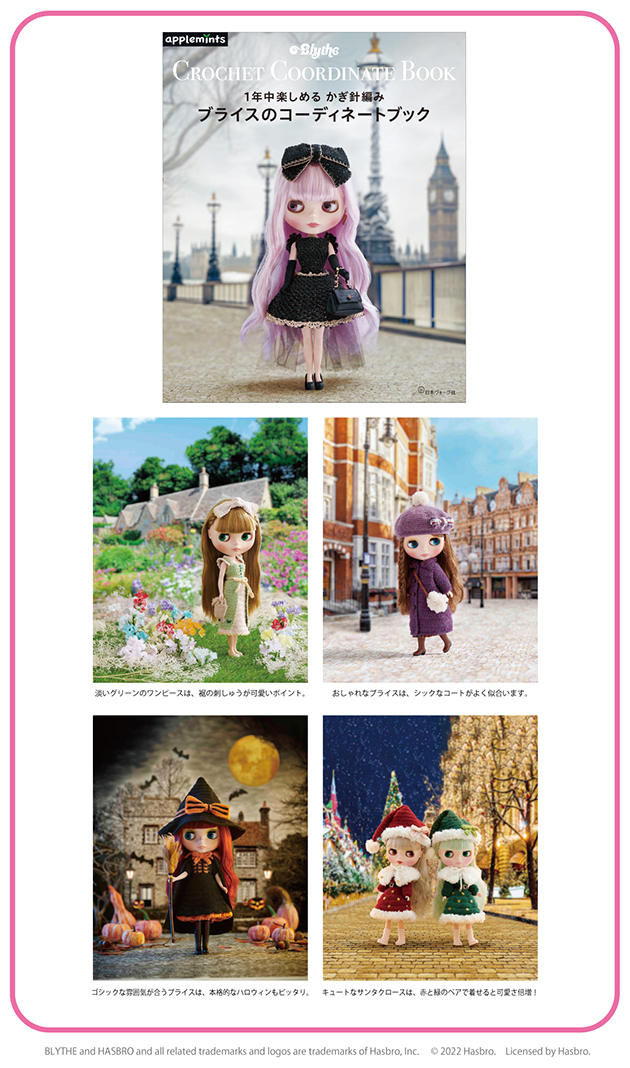 The book, which introduces many cute crocheted Blythe outfits, will be on sale!
Divided into "Casual," "Event," and "Wedding" sections, the book includes outfits for Halloween, Christmas, and other seasonal events, as well as wedding dresses to send to your friends who are getting married.
A wide variety of outfits are introduced, including wedding dresses and colored wedding gowns to send to your friends who are getting married.
Please take a look at the many hair ornaments and hats that would look great on Blythe.

This is a great book that includes detailed information on the basics of how to knit and even point lessons.
Please knit a special dress-up outfit for your own special Blythe.


Blythe " Croche Coordinating Book" can be enjoyed all year round.
Size: 257mm x 210mm
Number of pages: 64
Price: 1,540 yen (1,400 yen + tax)
Publisher: CWC Publishing (Cross World Connections Inc.) Publisher: Junko Wong
Publisher: E&G Creates Inc.
Publisher: Vogue Japan Inc.

Publication date: June 24, 2022
ISBN: 978-4-529-07124-6

*Sales at CWC directly-managed stores will begin on Saturday, July 2.