2022.07.01
We are pleased to announce the final version of Neo Blythe "Blue Rabbit".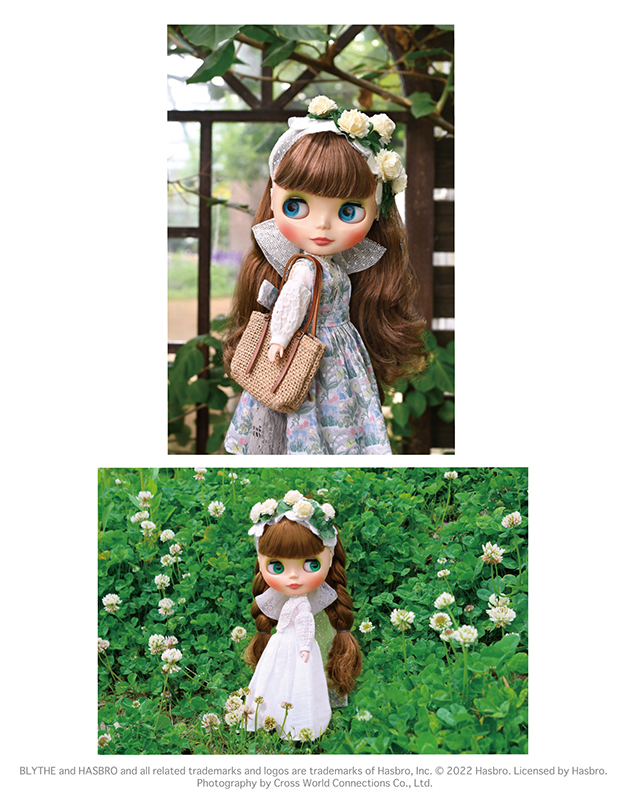 I went for a walk in the meadow and met a cute rabbit.
There were clovers and lily of the valley, and butterflies were dancing in the meadow.
The rabbit hopping happily around the meadow was a blue rabbit!
I thought this wonderful encounter was a gift from nature.
"Blue Rabbit" is a girl who wears fashion with a natural sense of style.
She is dressed in a white one-piece dress layered with an apron dress and a coordinating head accessory adorned with clover flowers.
The white one-piece dress has a lace base with delicate embroidery on the bodice and is trimmed with picot lace.
The sleeves are made of a fabric that looks as if it is covered with flowers, and the skirt is made of a softly woven fabric.
Semi-long peti pants are worn under the dress.
The apron dress is printed with an original textile depicting lily of the valley, grasses and flowers, butterflies and blue rabbits★.
Gray lace is sandwiched between the two sides. The back style is also cute with a large ribbon tied around the back.
Fashion accessories include a tulle lace head accessory decorated with clover flowers and a bag made of linen.
She is wearing green socks and black strap shoes.
The face type is Radiance Evolution and the face color is Fair.
Her hair color is light brown and her hairstyle is long, loosely permed hair with bangs.
Makeup is done in a healthy image. Eye shadow is light green, lip color is pink, and blush is salmon pink.
Nails are salmon pink.
The front one of the eye color is set with a special light brown color.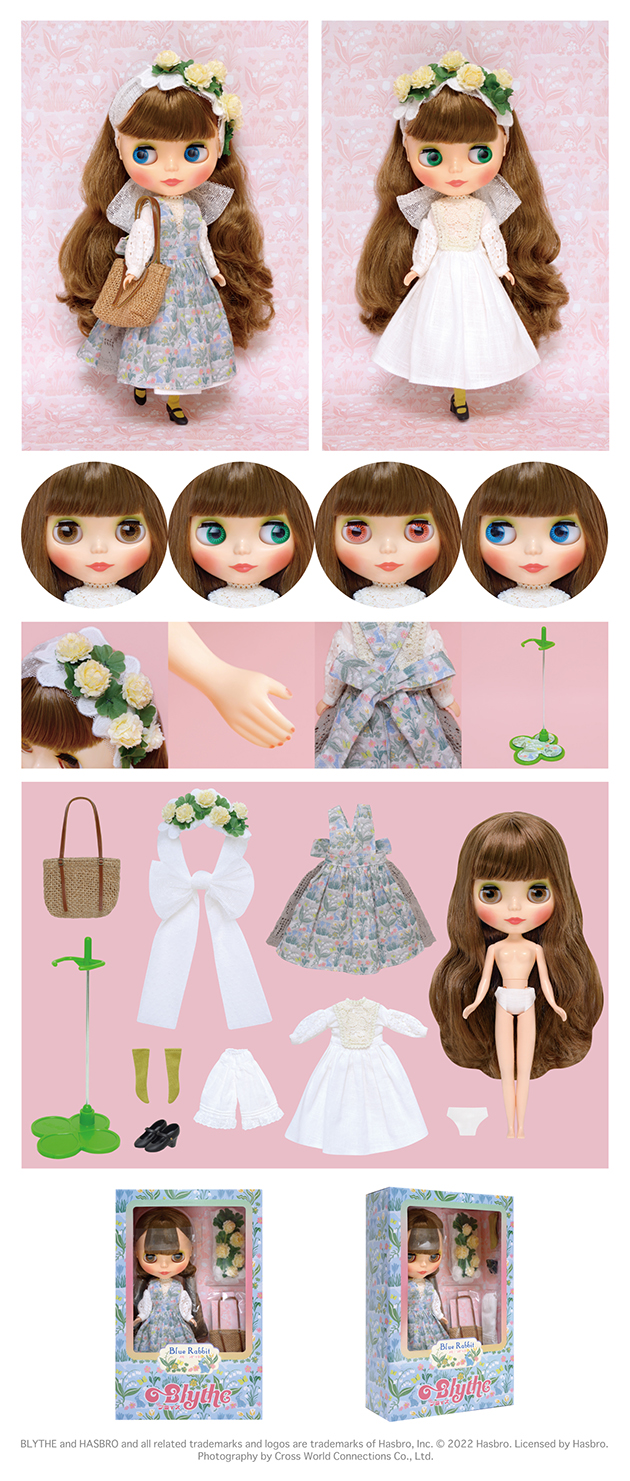 Face Type] Radiance Evolution 
[Face color] Fair.
【Makeup】Eyeshadow: Green, Lip: Pink, Blush: Salmon pink.
Eye Color] Light Brown (front *special color), Green (right), Pink (front), Blue (left) 
Eyelid】Skin color
Eyelashes】Black
Hair Color] Light Brown
Earrings】None
Manicure】Pink
Set includes] Doll, apron dress, dress, head accessory, bag, pettipants, shorts, socks, shoes, and stand (approx. 17.5 cm high).
*Appropriate age range is 15 years and up.
*Specifications may vary from product to product.
Release date: Friday, July 29, 2022
Suggested retail price: 20,350 yen (including tax)