2022.09.30
Neo Blythe "Suri Sustainable" illustration announcement.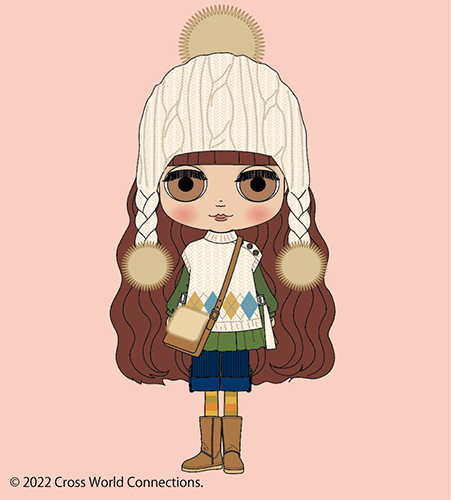 It takes a lot of effort and discipline to compost, recycle and make things by hand.
Suri does all of that as well as grow her own vegetables.
She knits, she sews and everything she touches, grows!
"Suri Sustainable" is a girl with a natural sense of fashion. She looks warm in her knit hat and vest!
Her outfit consists of a tunic blouse, shorts, and a knit vest.
The knit hat with pom-poms and vest are cable-knit and accented.
For fashion accessories, a shoulder bag with faux fur flap and long boots are selected★. 
These items are perfect for Suri, who values a light style and sustainable lifestyle.
The face type is Radiance Evolution and the face color is latte.
Her hair color is brown and her hairstyle is long, permed hair with bangs.
Makeup is eye shadow green, blush orange, and salmon pink.
Eye colors are brown (front *special color), blue (right), light green (front *special color), and orange (left).
This product is intended for ages 15 and up.
The illustration is a design drawing. Specifications may differ from the product.
Release date: Scheduled for November 2022
Suggested retail price: 21,000 yen (including tax)