2022.10.12
We are pleased to announce the release of "Blythe Big Sweatshirt".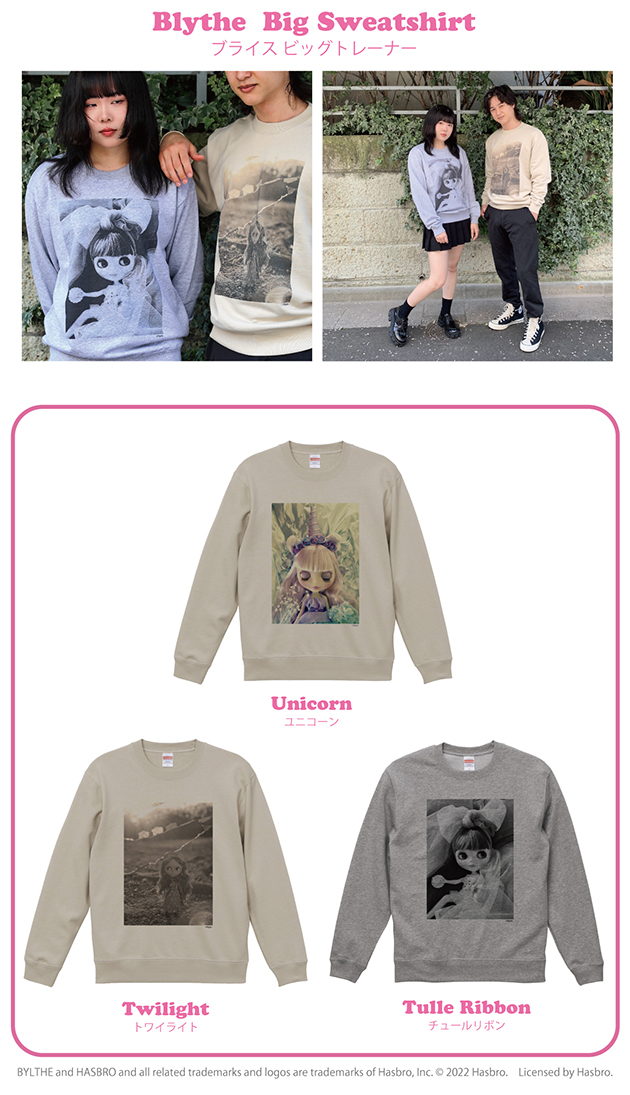 Newly released sweatshirts with a nuanced Blythe photo print★.
The body comes in two easy-to-wear colors, sand beige and mixed gray.
Three types will be available: "Unicorn," which has a fantastic atmosphere with reduced saturation to match the body color; "Twilight," which expresses Zanya on a walk at sunset in sepia; and "Tulle Ribbon," which features a tulle ribbon coordinating with the fashion point of view.
You can enjoy a trendy, relaxed look.
The large size allows for men's wear as well, including pair coordination.
Blythe Big Sweatshirt
Total 3 types: Unicorn (sand beige), Twilight (sand beige), Tulle Ribbon (mixed gray)
Size: Free size (Length: 67 cm, Body width: 55 cm, Shoulder width: 48 cm, Sleeve length: 59 cm)
Material: Outer: 100% cotton, (pile finish on the back)
Body made in China, printed and finished in Japan
Retail price: 5,280 yen (price without tax: 4,800 yen)
Release date: October 15, 2022 (Saturday)