2023.07.26
There are four new "Blythe Gauze Towel Handkerchief" designs available on August!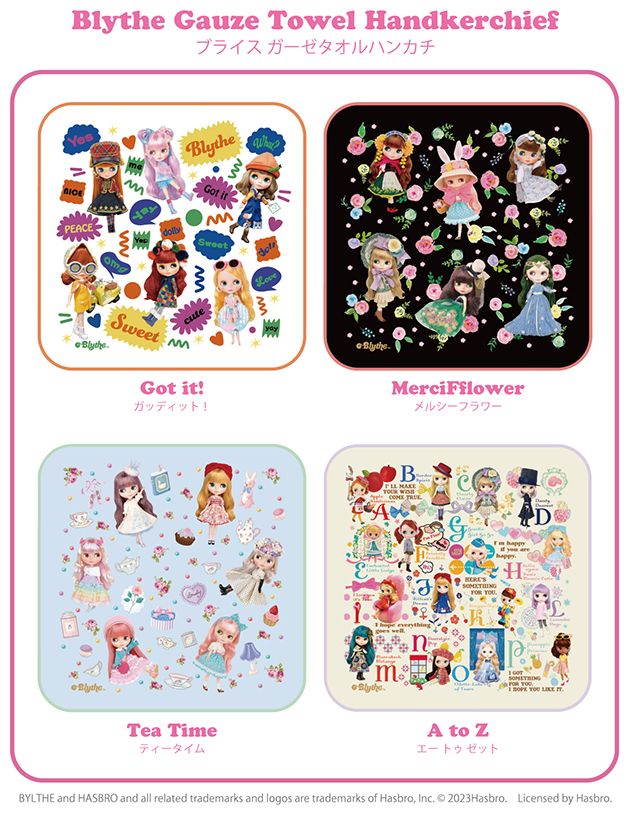 This handy towel-chief has gauze on one surface and toweling on the reverse side for a soft and absorbent feel -- perfect for hot summer days!
The mini-size of 24 cm makes it perfect for carrying in small bags!
The gauze surface is printed with a Blythe pattern, while the toweling reverse side is a clean white.
The designs are stylish, "Got It! the cinema heroine "Merci Flower," "Tea Time" featuring Blythe and her friends standing amidst flowers, and "A to Z" featuring phrases in English.
Blythe Gauze Towel Handkerchief
Total 4 kinds / Got It! , Merci Flower, Tea Time, A to Z
Size: H24 x W24 cm
Material: 100% cotton
Made in Japan
Price: 990 yen (price without tax 900 yen)
Release date: Saturday, August 11, 2023