2023.09.12
Two new items, "Croquis Notebook Pocket" and "Croquis Notebook Square," are now available in the Blythe Goods lineup!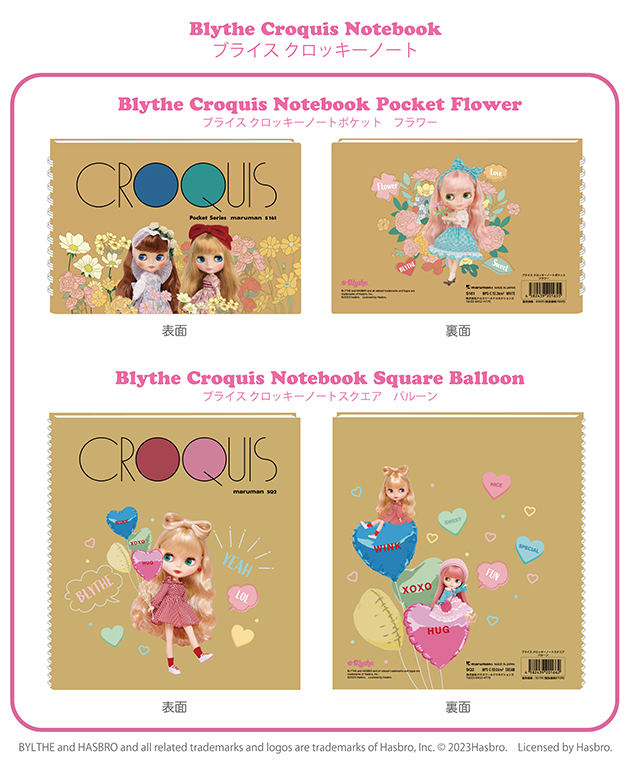 Blythe has collaborated with Maruman, a company well-known for Croquis notebooks and sketchbooks!
Capture your creativity on paper by writing down your ideas and drawing designs, illustrations, and sketches!
The design theme of the smaller pocket is "Flower". The paper is white.
The design theme for the square is "Balloon. The paper is cream.
Blythe Croquis Notebook Pocket
Total 1 type: Flower
Size: H11.2 x W16.5 x D1.5 cm
Material: Paper
Bound with twin wire
OPP included
Made in Japan
Retail price: 836 yen (price without tax: 760 yen)
Release date: September 23, 2023 (Saturday) *Pre-sale at CWC directly-managed stores
Blythe Croquis Notebook Square
Total 1 type: Balloon
Size: H18.2 x W16.5 x D1.5 cm
Bound with twin wire
Packaged in OPP
Made in Japan
Retail price: 957 yen (870 yen without tax)
Release date: September 23, 2023 (Saturday) *Pre-sale at CWC directly-managed stores