2023.09.29
Neo Blythe "Dear Forest Deer" final specifications!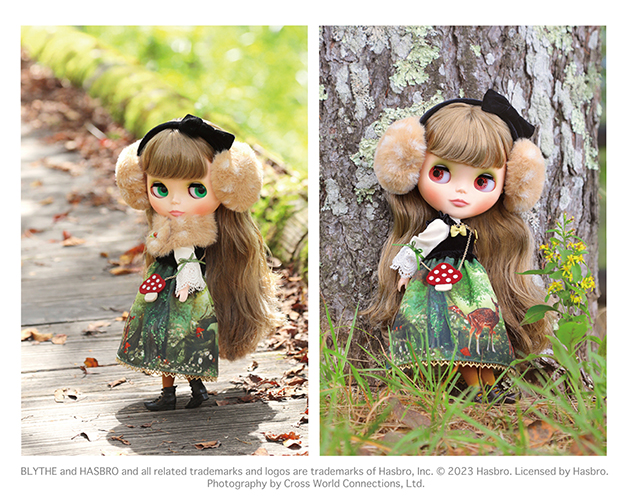 "While I was walking in the forest, I met two lovely deer who were looking for food.
When our eyes met, they stopped and smiled at me ♡.
We found mushrooms that I'm going to use prepare a delicious dinner and we'll have a lovely meal!"

"Deer Forest Dear" is dressed in a warm and cute fashion, perfect for a stroll in the woods.
She wears an overdress over a white inner one-piece with lace adorned below the elbows.
The over-dress is sleeveless and decorated with small bows and picot lace.
The skirt has illustrations of deer living in the forest.

Fashion accessories include unique items such as earmuffs made of deer-spotted fur, a scarf with acorn charms, and a red mushroom-shaped chain pochette.
They wear mustard-colored tights and black four-strap shoes.

Her face type is Radiance Evolution and her face color is Fair.
Her grayish beige hair is long and permed with bangs.

Her makeup was finished with yellow-green eyeshadow, salmon pink cheeks, and pink plump mask for her lips.
As for the eye color, one of the front eyes is set in a special color blue.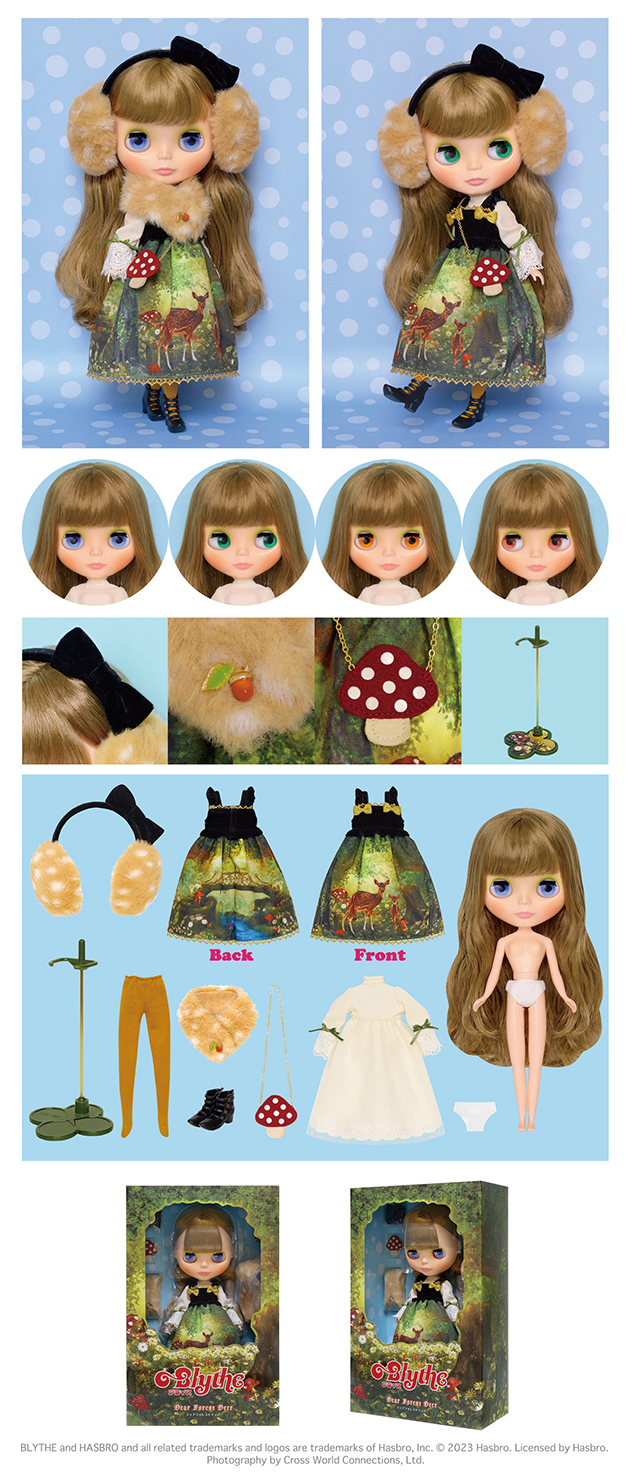 [Face type] Radiance Evolution 
[Face color] Fair
[Eyeshadow] yellow green, Lip: pink (plump mask), Blush: salmon pink
[Eye Color] Blue (front *special color), Green (right), Orange (front), Pink (left)
[Eyelid】Default
[Eyelashes] Default
[Hair Color] Grayish beige
[Piercing] None
[Manicure] None
[Set】Doll, over-dress, inner-dress, ear muffs, scarf, pochette, tights, shoes, shorts, and stand.

*This product is intended for ages 15 and up.
*Specifications may vary from product to product.

Release date: October 27, 2023 (Friday)
Suggested retail price: 21,500 yen (including tax)