2023.11.03
We are pleased to present the illustration of Top Shop Limited Neo Blythe "Pleasant Surprise".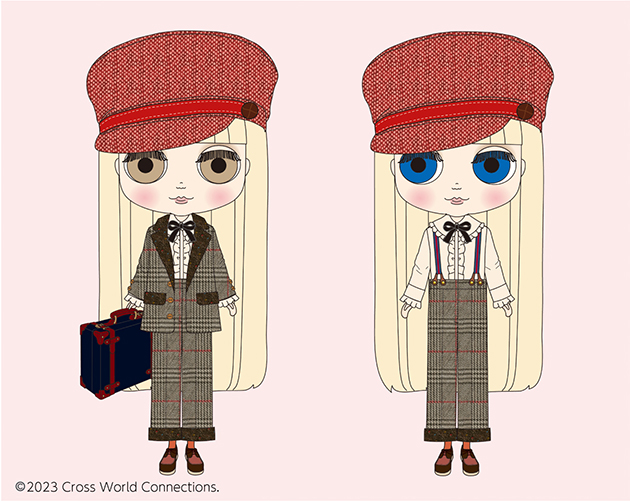 I'm feeling good in my suit today. I checked in for my flight to Paris and was upgraded to first class!
My bags were the first out and soon I was in the city of lights.
To top it off, my hotel gave me a suite with a view of the Eiffel Tower, tall and grand. Today was a day filled with pleasant surprises.
Could the lucky charm be the suit I'm wearing?
"Pleasant Surprise" is a girl who looks great in a suit!
This suit has checked pants with a jacket with the collar and decorative pocket flaps accented with a different fabric .
The pants are short enough to show the ankles and has suspenders.
A ruffled blouse with a ribbon adds a cute touch.
Fashion accessories are all favorites of "Pleasant Surprise".
The selection of cool-looking items includes a wine-colored tweed hat, a hard trunk, and thick-soled shoes.
The face-type is Radiance Evolution with cream face color.
Hair color is blonde and hairstyle is long and straight with bangs.
Makeup is brown eyeshadow, pink blush, and pink lips in a pouty shape.
Eyelids are brown (molded color) and the jagged eyelashes are a special brown!
The front eye color is light-brown with a special color of light-blue.
This product is intended for ages 15 and up.
The illustration is a design drawing. Specifications may differ from the product.
Release date: Scheduled for December 2023
Suggested retail price: 22,000 yen (including tax)