2016.06.01
Blythe 15th Anniversary Present Campaign!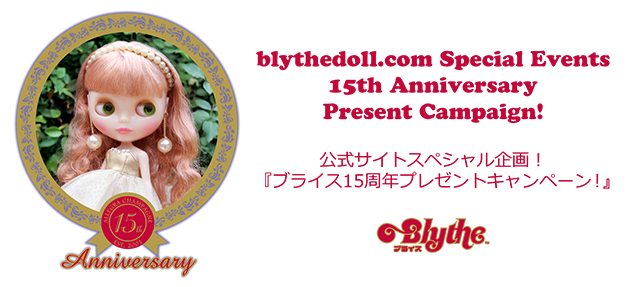 Blythe 15th Anniversary Present Campaign!
Send a heartfelt message and win a Junie Moon Original Dress or other goods!

This year on June 23rd, Neo Blythe will become 15 years old. In order to honor the fans who have walked with Blythe on her long journey to this moment, we will be hosting a give away campaign at the official Blythe Website, called the Blythe 15th Anniversary Birth Day Present Campaign!

Send a birthday message to Blythe to commemorate the 15 wonderful years that has passed being supported by her loving fans, and the many more years to come! Tell us how you spend your time with Blythe, or any good memories pertaining to her, or future plans you have with her! Any comments are welcome as well.

We will be drawing names from those that have sent a message to choose the winner of an original Junie Moon Dolly Wear dress or some other wonderful Blythe products! We await your messages!

How to participate:

- Application Period
June 1st (wed) - June 30th (thur)
*Any messages sent before or after this period are not applicable.

- How to send Messages
Fill out the application requirements below and send it to E-mal.
This campaign is over. Thank you.

Application Requirements
1. Message:
2. E-Mail Address:
3. Name:
4. Zip Code:
5. Address (including building name and room number):

--

We will be drawing applicants from the sent messages to send the prizes. We will begin sending prizes late July.

We eagerly wait your messages!