2016.06.08
CWC Exclusive 15th Anniversary Neo Blythe "Allegra Champagne" final details Part 1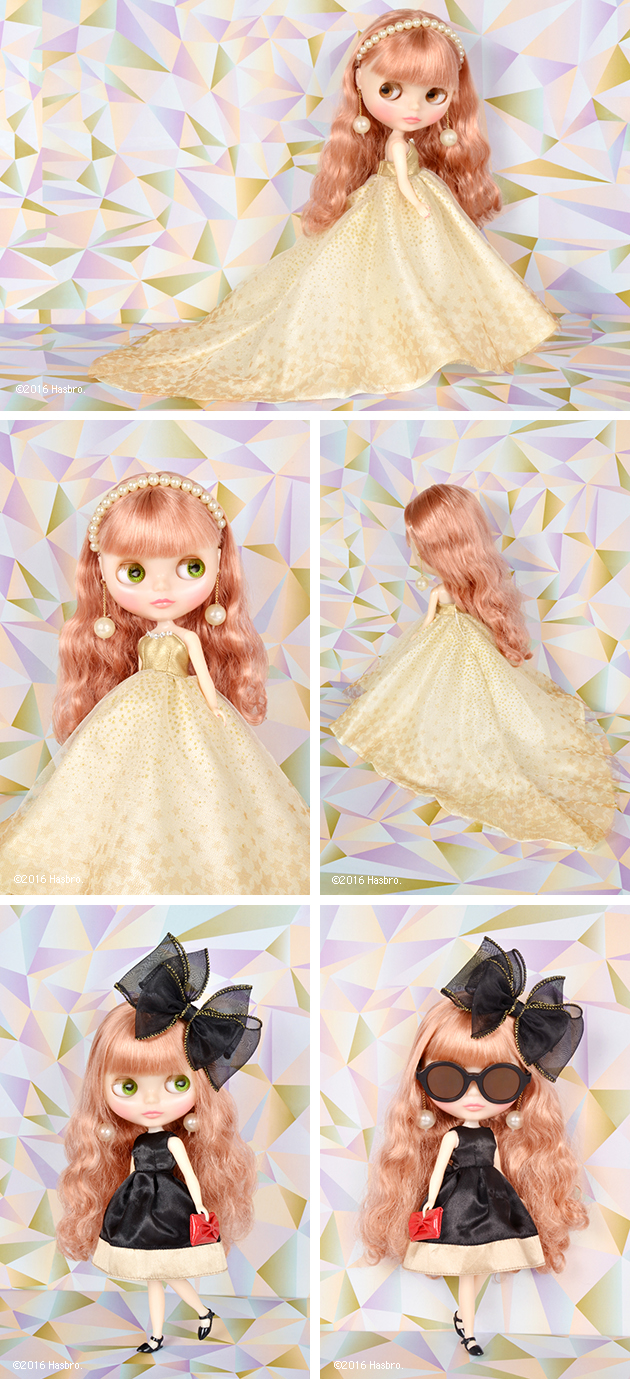 We are excited to share the final design in two part. This is Part 1 of 2.
* Please contact CWC retail stores for purchase information.

Let's celebrate Blythe's 15th Anniversary with a glamorous party and champagne.

"Allegra Champagne" is our glamorous Blythe dressed in her long, formal gown she is here to usher in the 15th year celebration of Blythe.
She has two fashionable looks her flowing gown and her chic black dress which is perfect for a night on the town.

Her gown is champagne gold, featuring a delicate splay of golden stars.
The bodice is made of structured faux leather.
The novel combination of soft tulle layers, faux leather, and glossy fabric makes this dress a textural joy.

The skirt silhouette gathers at the waist and forms a long train, with double layers of tulle overskirts printed with golden stars, giving it a gorgeous volume. The bodice is also embellished with large diamond like gems. The stars and gems glitter like delicate champagne bubbles.
Her accessories include a lovely pearl crown headband, dangling pearl earrings, and champagne gold shoes.

"Allegra Champagne" is the center of attention at every fashion events and museums. She loves to attend art openings and concerts.
Her semi-formal dress is elegant and cool made of black satin and golden hem.
It has a low cut back to make it a bit more mature and it comes with a black lace camisole and ribbon details.
The design is completed with an exquisite balance of satin and lace.
She has a large chiffon bow head piece, round sunglasses, enamel-like red clutch.
These elegant accessories come together with her black strap shows.

All her small accessories are stored in a special paper box!

In Part 2, of our final design announcement we will tell you the make up and hair selections. Stay tuned!

Release Date: August 4, 2016
Price: 34,900 JPY

* Lame printing on the skirts may slightly vary per dress depending on assembly.
Thank you for your understanding.