2012.08.23
New Middie Blythe "Francoise Ananassa" illustration!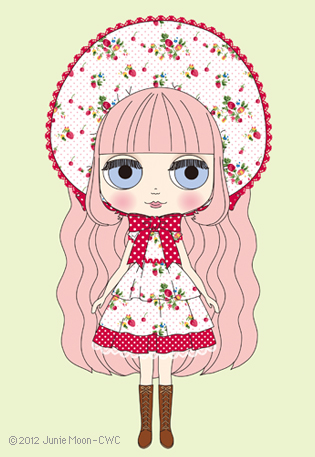 It's strawberry picking day!
Invite all your friends and we can have a strawberry picking party!
Let's make a milk shake using our fresh strawberries.
We could make strawberry shampoo or sweet strawberry perfume.
You can become a sweet strawberry girl like me!
Francoise Ananassa doesn't smell of strawberries, but she's just as sweet! Her dress and bonnet have a lovely strawberry pattern fabric.
Her skirt is tiered with strawberry and polka dot patterns.
Her beautiful bonnet frames her sweet little face. She has a new type of Middie sized "lace-up" boots.
Her hair color is pink. She has long, loose curls with straight bangs.
Her eye color is a lovely cobalt blue. She wears brown eyeshadow with a pink blush and lip.
Her skin tone is Fair.
** Enjoy the design illustration for a hint of what's to come.
Please note, the final product may differ from the design image.
Release Date: October 2012
Price: 10,290 JPY