2012.08.08
Neo Blythe "Slow Nimes" Illustration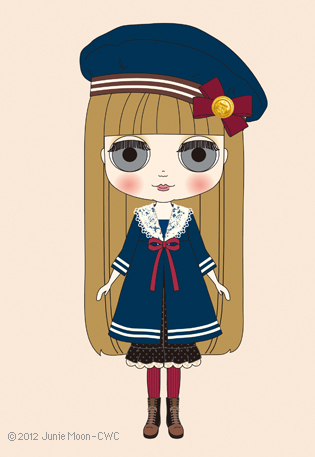 "No matter what the situation I promise myself to take life each day at a time and to cherish the hours in it. I take my time, to taste the food I eat.
I walk slowly to see the beauty around me.
I am Slow Nimes and I stick to my philosophy of a slow lifestyle."
Slow Nimes is a unique girl who lives life on her terms.
She chooses to live slowly and cherish each moment of the day.
She wears a sweet beret, camisole top and polka dot pants.
Her coat has a lace collar and two kinds of lace decorating the hems to resemble a sailor's shirt.
He beret is adorned with two kinds of ribbon and lovely gold button to add to the nautical look.
 She wears dark red knee socks and two toned "lace-up" style boots.
Her hairstyle is long and straight with straight bangs.
Her hair color is light brown.
She wears beige eyeshadow and rose colored lips and cheeks.
This natural make up gives her a healthy glow.
Her face type is Fairest, in a long awaited "natural" tone.
** Enjoy the design illustration for a hint of what's to come.
Please note, the final product may differ from the design image.
* Tentative Release Date: October 2012
Price: 144,90 JPY