2012.08.07
Introducing CWC Exclusive 11th Anniversary Neo Blythe "Red Delicious"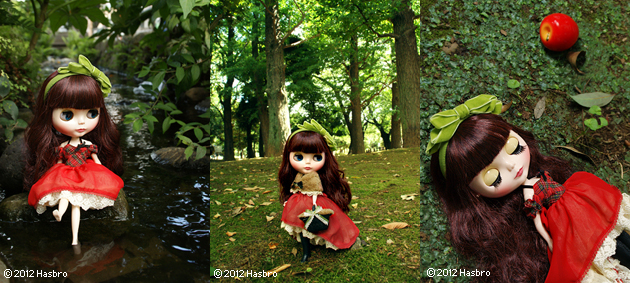 For the 11th Anniversary of Neo Blythe we have created a lovely Snow
White-themed Blythe!
Neo Blythe "Red Delicious" is here to make fairytales come true. Her
name comes from the most juicy, shiny and red variety of apples, the
Red Delicious! She's so fresh an gorgeous you'll want to take a bite
right out of her. Red Delicious is to celebrate Blythe's 11th
anniversary so she has many special design points!
Her dress has an avant-garde twist, the shortened hem in the front references a bite taken out of an apple.
The bodice is made from a lovely tartan check and ties with a black satin ribbon for the halter neck. The body of the skirt is made of chiffon, with soft tulle underneath to add body to the shape.
We have considered each angle of the dress to give it an attractive silhouette from each side.
Her green velvet bow hair accessory gives you an image of leaves at the top of an apple.
The lovely green color accents her rich dark brown and red hair.
Her faux-fur shawl has delicate details of lace, black ribbon and tiny accent button.
She wears gold lame knee high socks with a new style of black "lace-up" boots. Her look is completed with an adorable basket with faux fur and gorgeous ribbon.
True to the theme of Snow White, "Red Delicious" has a special sleepy
eye detail.
Pull the string at the back to make her eyes sleep, like our lovely princess after she takes a bite of the enchanted apple.
Her eyes have special hologram glitter and some special colors.
Her make up was carefully chosen to compliment her style.
She has special long, black eyelashes that brings out her gorgeous features.

Design Details:
Face Type- Radiance
Skin Type- Cream
Makeup- Eyeshadow: Yellow Green, Lip and Blush: Rose Pink
Eye Colors- Light Blue (special color), Blue (with hologram), Brown
(with hologram), Olive Green (special color)
Eyelashes- Special Black Eyelashes
Eyelid- Special Warm Green color, with sleepy eye function
Hair- 50/50 mix of dark brown and red tea
Earrings- Red Gold tone post earrings
Manicure- Rose Pink
The Set Includes: Doll, gown, shawl, petticoat, ribbon hairband, earrings, basket, socks, boots, underwear, and stand.
Release Date: September 2012
Price: 22,050 JPY
Limited production run of 2012 dolls.
* Blythe anniversary dolls are made in the quantity of the year.
Junie Moon international online shopping will hold a special lottery
for this doll from August 8th.
www.juniemoonshop.com
Blythe Creative Producer, Mrs. Junko Wong has done a fun and informative Q&A about the development and concept behind Red Delicious.
Please check out her blog for the inside scoop!
Junko and Blythe Blog: www.junko-and-blythe.blogspot.com