2012.08.02
Welcome Neo Blythe "Pickle Winkle"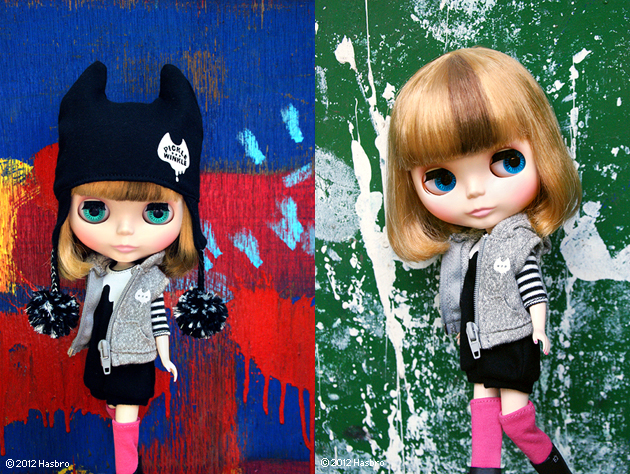 Pickle is the star of her dance team named "Winkle". She strives to make the perfect moves on stage so she practices very hard.
Pickle has a unique fashion sense to accommodate her dancer lifestyle! Her bold color coordinate of black, white and magenta pink are fun and flashy!
In her all-in-one attached with pumpkin shorts, Pickle moves and steps with ease. The one-piece has cute ice cream-looking drips on the front. Her sleeveless zip-up hood had her dance team name "Winkle" on it. Her fashion point is the devil horn-like hat with cute black, grey and silver pom-poms on the sides.
Her knee-high socks in magenta adds an accent color to her overall coordination. She also wears double belt engineer boots that adds an edge to her look.
Her hairstyle is a short bob with bangs set in a loose body perm.
Her hair is two-toned with dark blonde pieces and dark brown underneath, giving her a "street style" look.
She wears brown eye shadow, pink blush, and pink lips.
Her stand is a special neon pink color.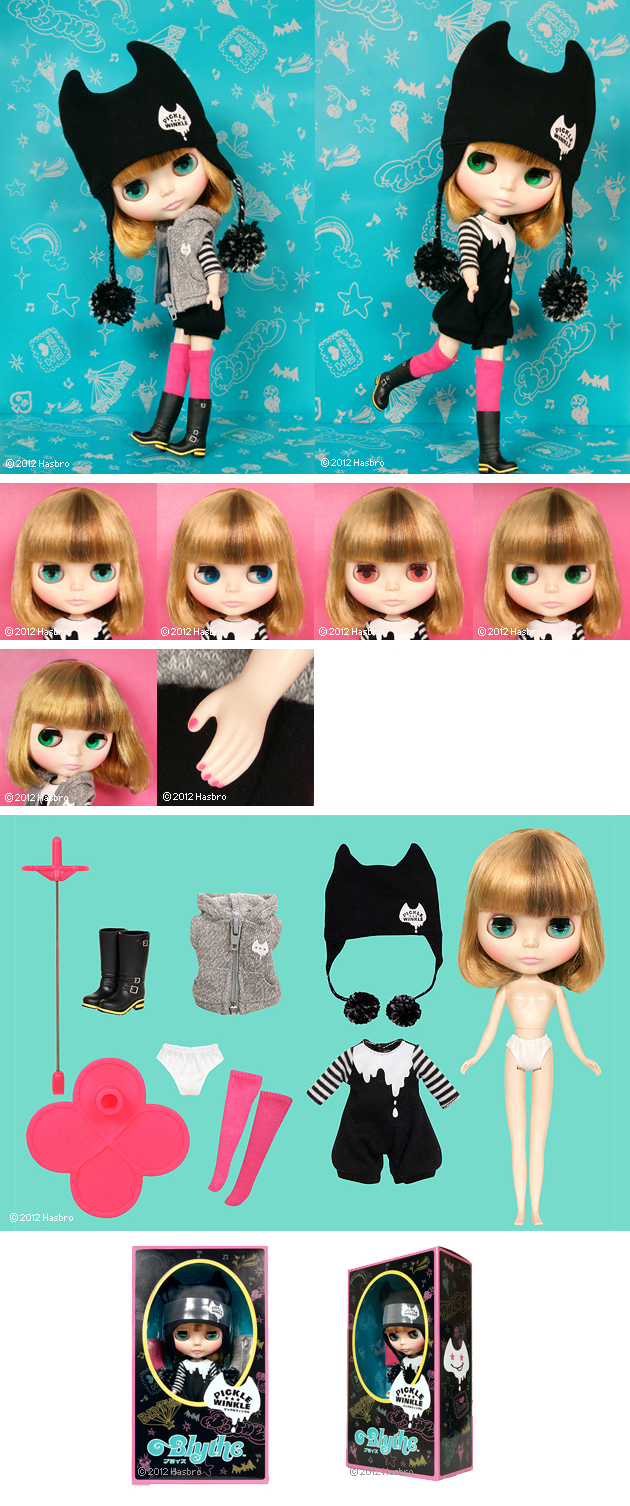 Face Type: Radiance
Skin Color: Cream
Makeup: Pink blush, brown eye shadow, pink lips.
Eye Color: Light green (special color), blue (right), pink (front), green (left)
Hair Color: Dark blonde with dark brown underneath.
Manicure: Neon Pink
Set Includes: One-piece jumper, hat, zip-up hoodie, socks, boots, underwear, and stand.
Release Date: September 7, 2012
Price: 14,490 JPY
We will sell on the Junie Moon online shopping sites from August 31, 2012.
Junie Moon in Daikanyama, Lele Junie Moon in Marui Shinjuku will sell on September 7th.