2012.07.20
CWC Exclusive 11th Anniversary Neo Blythe "Red Delicious" illustration is here!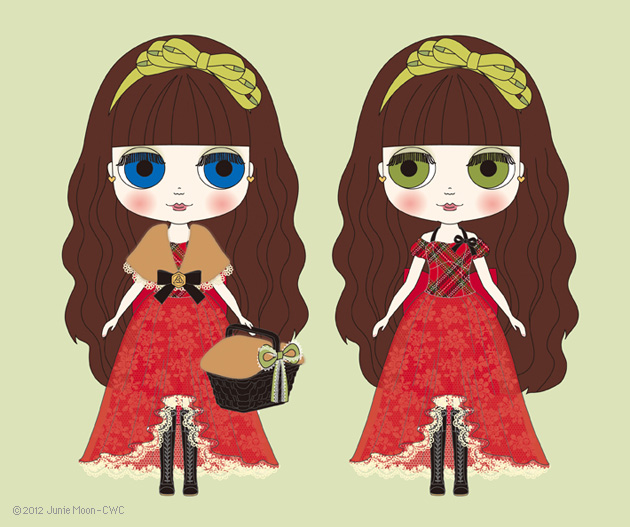 For over a decade we have released an annual Blythe anniversary doll. It has already been 11 years since the first Neo Blythe was produced.
The 11th Anniversary doll is a beloved princess you may remember. She's based upon the fairytale of Snow White! Her name is "Red Delicious". Can you sense the secret of her magical beauty?
"Eleven red apples are bathed in sunlight. Their beautiful glow, and the sweet juice are irresistibly delicious. Is one enough? Can you give one to me? The bright red apple in the palm of my hand glistens in the sun. I admire it's glossy surface and take a big bite."
"Red Delicious" has warm and secret glow in her cheeks. Her deep blue eyes express a delicate sense of nuanced melancholy. Her green eyes reflect the deep mysteries of the forest. Her dress has a shortened hem in the front that references the bite taken out of an apple. The dress has a full, rounded skirt to give sweet volume. The bright red color harkens back to the image of the Red Delicious Apple with a crisp accent of lace along the hem. The avant-garde styling is also elegant with the classic princess dress theme. She has a shawl, headband and new style boots to complete her look.
Design Details:
"Red Delicious" will have special sleepy eyes! Close her eyes like she has taken a bite from the apple.
The special color eye chips have holographic film to add a twinkly look.
Her hair style is lone with a loose body perm, with adorable bangs. The hair color is a mix of milk tea and red together.
Her eyelid and eyeshadow is chartreuse.
Her cheek and lip is rose pink.
She has special black eyelashes too!
Her face type is Radiance, with cream colored skin.
** Please note, the final product may differ from the design image.
Release Date: September 2012
Price: 22,050 JPY
Limited to 2012 dolls
* Stay tuned in August for an update on the 11th Anniversary doll from Blythe Creative Producer, Junko Wong! We hope to see you then!