2013.01.31
Illustration for Elegant & Gothic Neo Blythe "Ambrosial"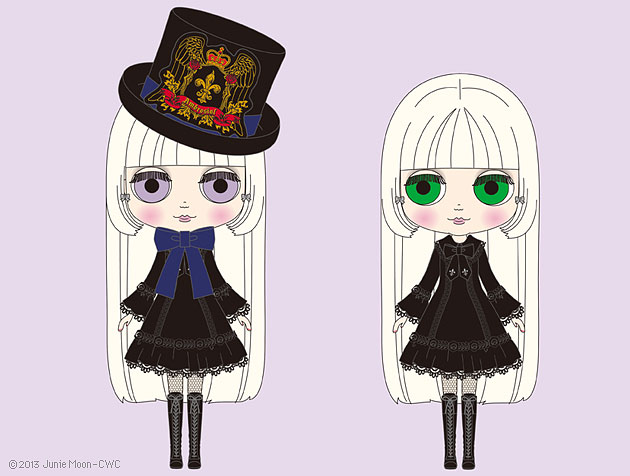 "The seductive scent that beckons to us in the dark of night,
Ambrosial is waiting for you.
She wants a hug.
Take her hand and she will lead you to the light."
We are happy to introduce you to the very first Gothic Blythe doll.
This special Blythe wears all black.
Her dress is a shiny black fabric trimmed with lovely lace.
There are two rows of tiny crocheted black lace down the front of the dress.
They meet at the ruffled hem of the dress with a line of black rose lace.
Around the bottom hem you will find more lovely lace.
The standout piece for this doll is the black felt, top hat. It bears a bold coat of arms with crown, wings, and fleur de lis.
The top hat ties with a blue bow.
 
She also wears sweet bow earrings and lovely red fingernail polish.
Her tall black boots are off set with her cheeky fishnet stockings.
 
She has long platinum blonde hair with blunt bangs.
She has a special light purple eye chip with a frontward gaze.
She has grey eyeshadow, pink lipstick and blush.
She has fair skin.
 Face Type is Fairest.
She comes with a black stand.
 
The illustration is a design of concept and does not reflect the final product.
Scheduled Release Date: March 31, 2013
Price: 16,590 JPY