2013.02.06
Announcing our 3rd Collaboration with Fashion Brand "Achachum & Muchacha" Middie Blythe Nekogutsu Zukin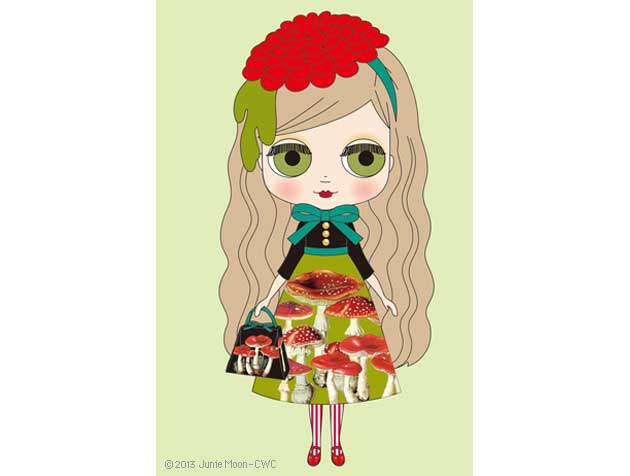 Nestled in the country of Achachum, the village of Muchacha you will find Neo Blythe Achachum Zukin and Petite Blythe Muchacha. They are there to help usher in Middie Blythe Nekogatsu Zukin through the Miracle Mushroom Garden. ♫
**************************************************************
I am the guardian of the Miracle Mushroom Garden in the village of Muchacha, of the country of Achachachum.
How does everyone know me? Because my shoes make the sound like a meowing cat!
They say "meow, meow" with every step I take.
One step at a time releases a cute "meow, meow"!
Hey, what kind of sounds do your shoes make?
"Meow, meow, meow!"
**************************************************************
The unique and quirky fashion of Middie Blythe "Nekogatsu Zukin" is bold and beautiful! She has bright red flower hair accessory. Her dress has fun mushroom prints and the toes of her shoes have miniature cat faces!
She guards the Magical Mushroom Garden with her fun cat shoes.
Her striped tights add a fun pop to her outfit.
Her light brown hair is a long with a soft perm and right, side part.
She has brown eyeshadow, orange blush and red lips.
She has light green eye chips.
Her face color is fair.
Be sure to check out the cute design on the package!
The outside of the package is decorated with a cat and tons of cute mushrooms.
This is the original package design from Achachum & Muchacha.
The illustration is a design of concept and does not reflect the final product.
Release Date: March 31
Price: 12,390 JPY