2013.02.14
Welcome our gothic beauty Neo Blythe "Ambrosial"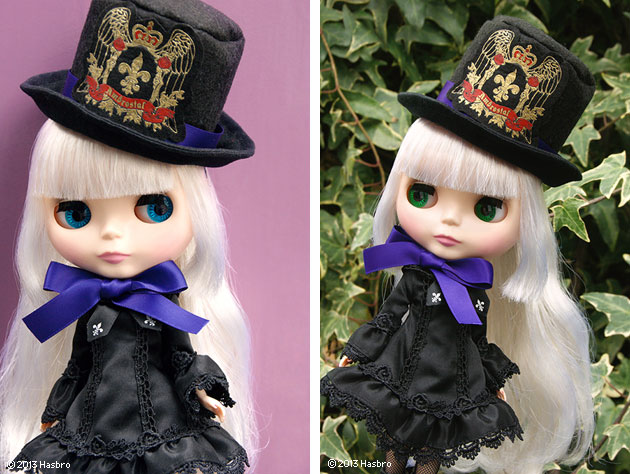 An enchanting beauty emanates from Ambrosial.
Let's experience the charm of her gothic fashion.
Her lovely one-piece dress is embellished with beautifully crocheted lace down the front and around the bell of her princess sleeves.
The hem of her dress and sleeves has a fine detail of more crocheted lace around the edges.
She has an elegant bow that ties at her neck with tiny fleur-de-lis print.
Her silk hat is essential to top off her gothic dandy look. It features and expressive coat of arms with angel wings, lilies, a crown and fleur-de-lis.
Her hat ties to her head with a dark blue ribbon.
Her keen eye is shows how well she grooms.
She has lovely red manicure and silver bow earrings.
Even her long lace front boots and fishnet stockings and meticulously chosen.
Her long platinum blonde hair is styled in a "hime" princess cut which flatters her fairest face type.
She has special light purple eye chips for her frontward gaze and soft, gentle makeup.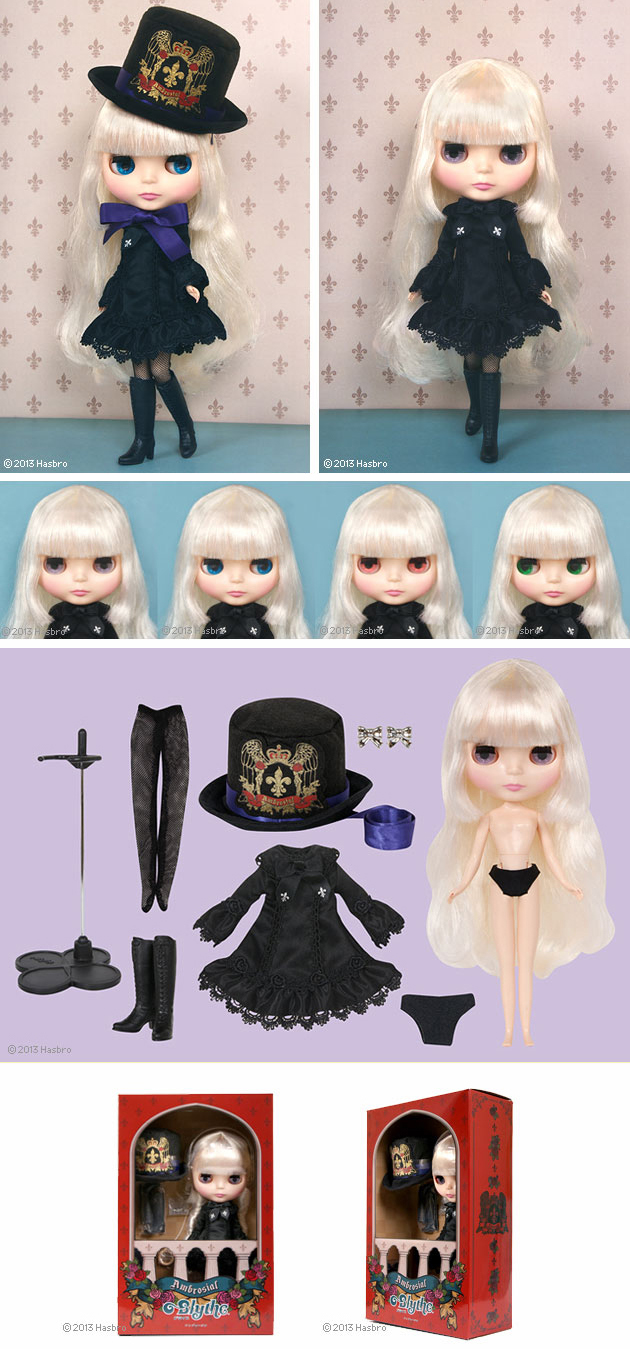 Face type: Fairest
Skin type: Fair
Eye shadow: Gray
Blush: Soft pink
Lip: Soft pink
Hair: Platinum Blonde
Eye colors: pink (front), blue (right), green (left) Special eye color: light purple (front).
Stand: Black with silver post

The set includes: One-piece dress, hat, earrings, tights, shoes, underwear, and stand.

Release date: March 8, 2013
Price: 16,590 JPY

* Junie Moon international online shopping will be accepting pre-orders for Neo Blythe "Ambrosial" from February 22 (Japan time). www.juniemoonshop.com