2013.07.18
Neo Blythe "Hi!-Ho! Marine" will sail into your hearts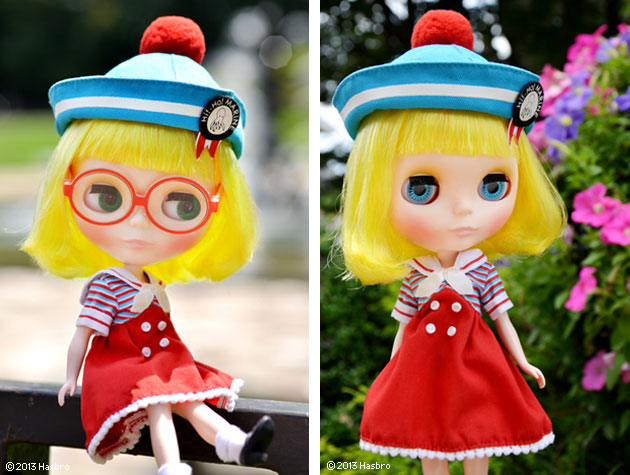 This summer, lets go racing toy boats!
We are announcing the final specifications of the Neo Blythe "Hi!-Ho! Marine."

The fountain down at the park is the perfect place to race our boats!
Once they start going, the water feels so large, it's almost like being at the lake!

"Hi!-Ho! Marine" enjoys wearing sailor outfits fit for the summertime.
Her white one piece dress has a red line running through the sailor collar, a bordered top section, and a vibrant red skirt that flows outward, giving her a stunning "A" shaped silhouette.
The sky blue gob hat is topped with a large pom-pom, and emblazoned with an adorable octopus emblem.
Her favorite red round rimmed glasses are on the large side, and her bright white socks and pitch black one-strap shoes enhance her energetic and cheerful personality.

Her lemon yellow hair is bobbed short and has a slight curl on the front.
Her makeup is natural and puts her vitality filled character first and foremost.
Her front facing eyes are a specially crafted light blue, and her stand is white.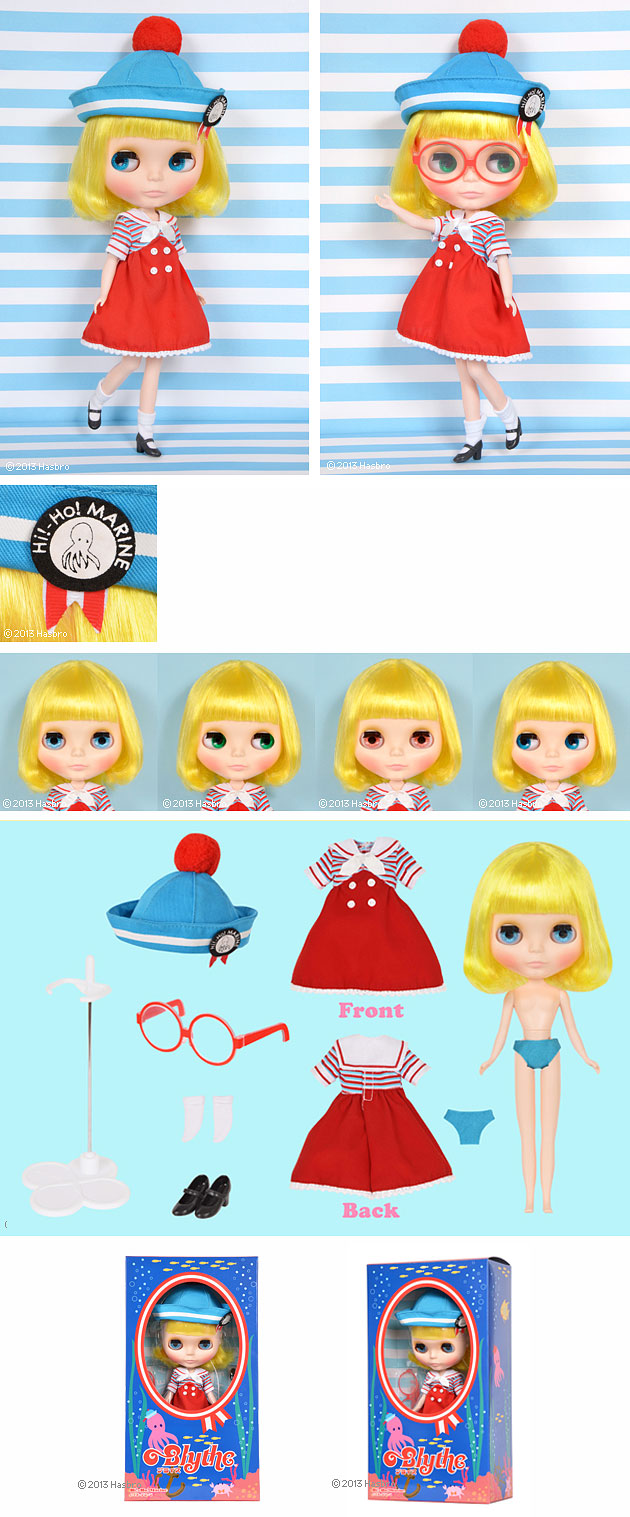 [Face Type] Radiance+
[Skin Type] Fair (Natural Skin)
[Make Up] Eye Shadow: Yellow Brown, Lip: Pink, Cheek: Pink
[Eye Color] Light Blue (front *special color), Green (right), Pink (front), Blue (left)
[Hair Color] Lemon Yellow
[Set Contents] Doll, One Piece, Gob Hat, Glasses, Shoes, Socks, Shorts, Stand

Release Date: August 9th, 2013 (Fri)
Price: 14,490 JPY

We will begin pre-orders at the Junie Moon international online shopping site from August 4th. For more information please check the website www.juniemoonshop.com
"Hi!-Ho! Marine" will be on shelves on August 9th at the Official CWC Daikanyama store Junie Moon, the Shinjuku Marui One store LeLe Junie Moon, and the Kichijoji Chara Park store Blythe Shop by Junie Moon, and other Blythe Doll carriers all over Japan.
On August 10th, the Osaka salon de Junie Moon will begin holding "Hi!-Ho! Marine."