2013.09.12
Middie Blythe "Furry Bella Bo" is the cuddly bear girl who heals everyones hearts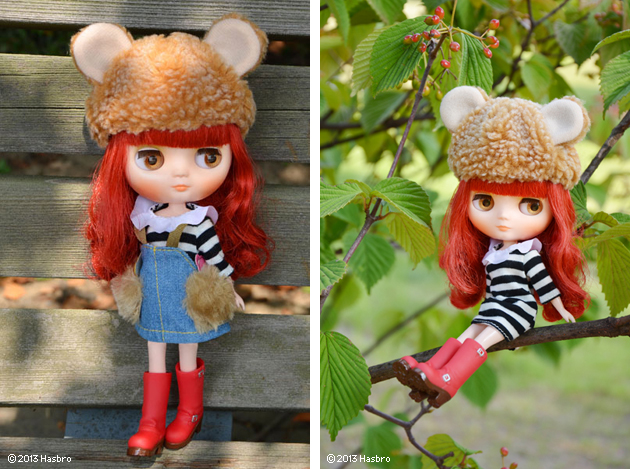 "Furry Bella Bo" brings a warm feeling to hearts of everyone around her.
Her bright smile makes you want to hug her tightly in a bear hug.

She wears a sweet casual outfit with striped top and denim skirt with fluffy pockets.
The top has cute 3/4 length sleeves and a cute ruffle collar.
She has two cute bear friends in her pockets to keep her company.

She wears a sweet bear cap.
Her long red boots have a brown sole and silver color buckle.
Her dark red hair is her special charm point, with a long loose perm and bangs.
Her green eyeshadow and cute makeup gives her a healthy glow.
Her pupils are set to light brown.

Skin: Regular
Makeup: Green eyeshadow, orange blush, and orange lips.
Eye Color: Light Brown
Hair Color: Dark Red
The set includes: Doll, hat, tops, overalls, boots, stand, shorts, paper accessories of two bears.

Release Date: October 11, 2013
Price: 10,290 JPY

Junie Moon international online shopping will take preorders for this item from October 4th. For more information find us here: www.juniemoonshop.com