2014.04.17
Neo Blythe "Ashley's Secret" is here to keep your special secrets
Everyone has a special secret.
Ashley is just the girl to tell your secrets.
She'll keep it private and give you good advice.
She is so very trust worthy, but very sweet.

Ashley's fashion is girly and chic.
Her one piece dress is made of silver lame, and is accented with black satin ribbons.
The high, empire waist is flattering on Blythe'S frame.
Her sharp jacket is printed with a clean silver accent.
She has dark grey, knee high socks that look great with her black boots.

She has long permed hair, parted at the side.
She has a thick black headband to tie it all back. Her hair color is a warm yellow.
She wears dark brown eyeshadow, and pink cheeks and lips.

She has special light blue, front facing eyecups.
She has Radiance + face type with fair skin.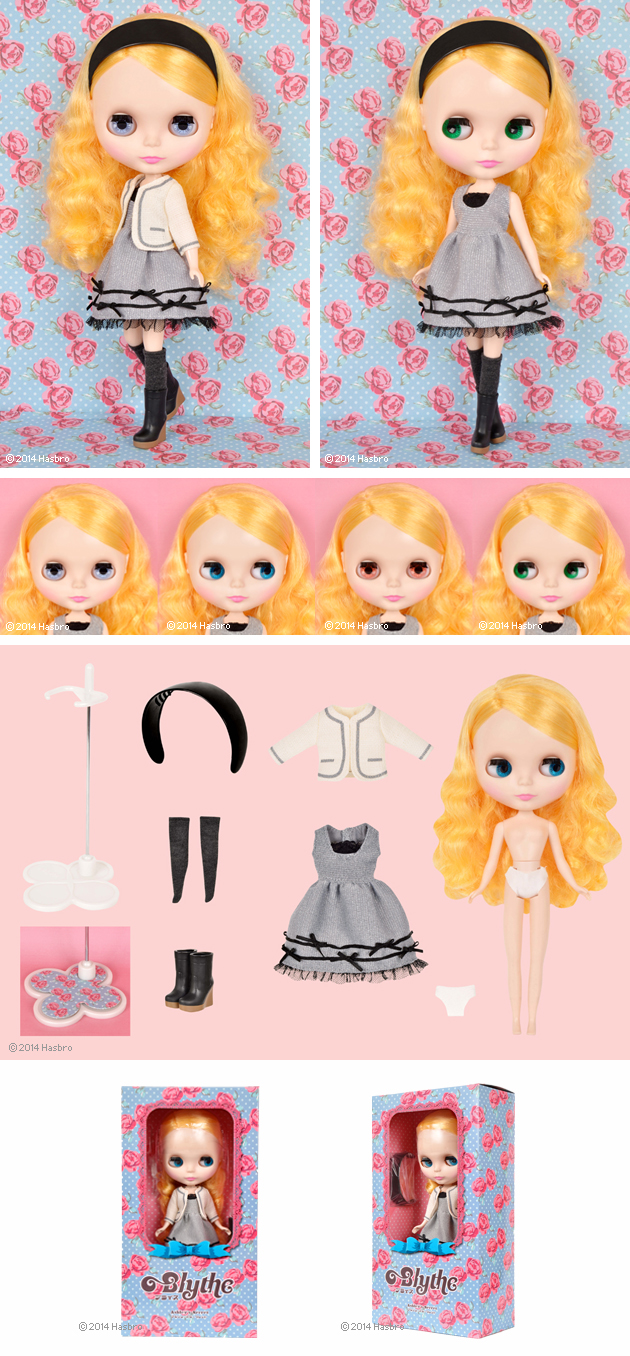 Face Type: Radiance +
Skin Type: Fair
Make-up: Dark brown eyeshadow, pink lips and cheeks.
Eye Color: Light Blue, stock blue, stock pink, stock green
Hair Color: Warm Yellow
The set includes: Doll, dress, jacket, headband, boots, socks, underpants and stand.

Release date: May 23, 2014
Price: 13,800 JPY

Junie Moon International online shopping site will take pre-orders for this doll from May 18th. Please check www.juniemoonshop.com for more details.