2014.08.26
The sensational fall wedding of CWC Exclusive Neo Blythe "Bianca Pearl" is almost here! (Part 2)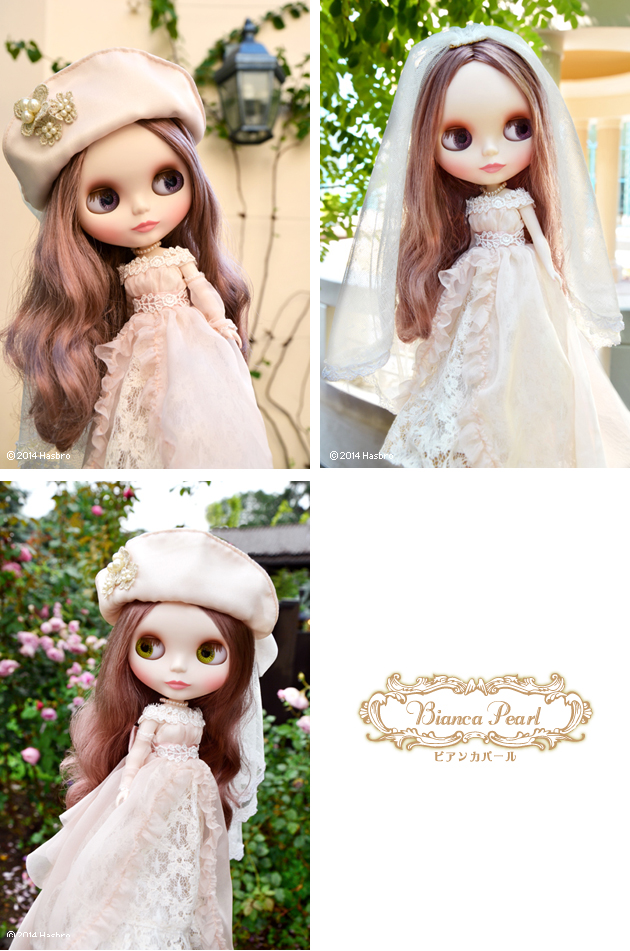 After our first design detail post about the glorious wedding dress of Bianca, we return with detailed information about the hair and make up of this special Blythe!
Bianca Pearl's hair is a special brown tinted purple, which is a new color!
She has long hair in a loose perm with a center part.

She has a special matte skin with snow white coloring.
There is a slight blush of pink around her eyes with a slight gradient of dark brown.
This advanced makeup look give the feel of a real blended makeup.
Her eyelashes and eyelid moulding are special brown.
Her cheeks are salmon pink to complement her skin and hair color.

Her likes are very special with a dark upper lip and lighter lower lip to give her expression more depth.
She has all 4 special eye chip colors of yellow green, light blue, light purple and light greent.
She has Radiance + face mould. She has a silver colored wedding ring pull ring.
Her stand is pearl white.


Face Type: Radiance +
Skin Color: Snow with matte face
Makeup: Dark brown and pink eyeshadow, salmon pink lips and blush.
Eye color: Light blue, light purple, light green, and yellow green.
Eyelid: Brown
Lashes: Special light brown lashes
Hair color: New Light brown and purple
Earrings: Pearl
Manicure: Pink
Set includes: Doll, dress, veil, hat, gloves, shoes, necklaces, earrings, underpants and stand.

Release Date: September 26, 2014
Price: 22,000 JPY

https://www.juniemoonshop.com/