2014.08.27
Let's get ready for a night of dancing with Hasbro Exclusive Neo Blythe "Curly Blue Babe"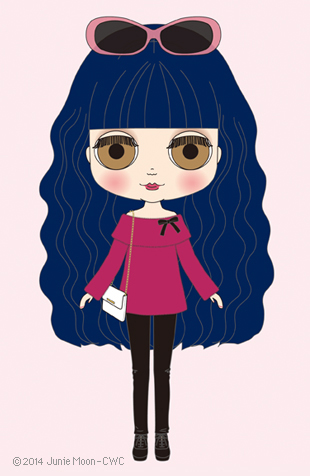 She's an alumni from her high school dance club.
She can work on Broadway in New York, act in Hollywood because she's so talented and professional!
She's so proud to be a part of her club!
She's good at all dancing from ballet, jazz, modern and more!
She's so excited to meet everyone at her club.

"Curly Blue Babe" wears a cowl neck sweater with leather style pants.
She has pink sunglasses and a white hand bag to accent her chic look.
Her high heeled boots give a cool edge to her outfit.
Sweet and chic is the fashion statement for this babe!

Her hair color is inky blue with a loose perm and straight bangs.
This is first time she has had this hair color since May 2008 when Can Can Cat donned the locks.
She has translucent skin which gives her a gorgeous and elegant look and her make up is bold!
A very unique approach to the use of this skintone and lip color.
She wears brown eyeshadow and lovely rose pink lips and cheeks.
She has a special light brown eye chips with a frontward gaze.
A favorite eye color amongst many Blythe fans. A beautiful color that matches her translucent skin.
Her face type is Radiance + with cream translucent skin. 

Release Date: October 2014
Price: 13,800 JPY

* This is a Hasbro Exclusive item and will be sold exclusively by Hasbro for other countries in Asia excluding Japan.
All sales in Japan will be through Junie Moon.