2015.05.27
New designs are coming for Blythe Postcards!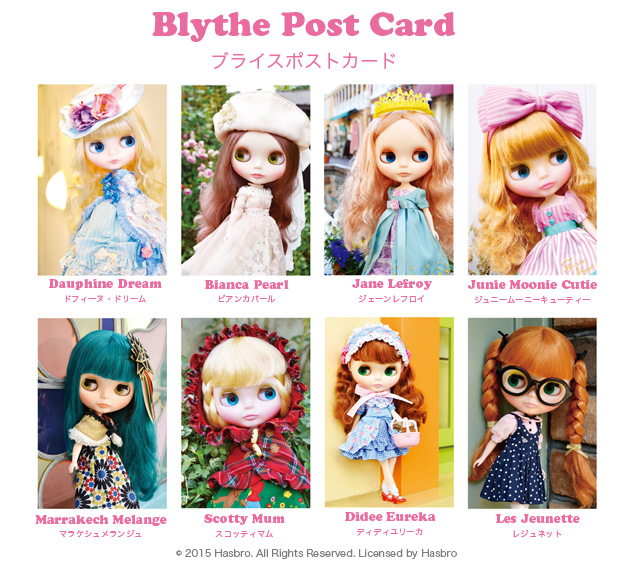 From elegant princesses, beautiful brides, to noble heroines, and charming cuties, these photos offer the best moments only the most popular Blythe can capture!

Every single Blythe that has modeled for this photo shoot has put forward their most lovely side.
These postcards are great to send to your friends, but also amazing to collect!

Among the graceful, pretty, and sophisticated princesses to adorn the postcards, Dauphine Dream, Jean Lefroy, and Bianca Pearl dressed in her iconic wedding dress are featured, as well as Junie Moon image girl Junie Moonie Cutie, Marrakesh Melange, Les Jeunette Club, Scotty Mum, and Didee Eureka. Send these photogenic Blythes as a seasons greetings, or decorate your desk or room with them!
『Blythe Post Card』
All 8 Types  
Dauphine Dream / Bianca Pearl / Jane Lefroy / Junie Moonie Cutie / Marrakech Melange / Scotty Mum / Didee Eureka / Les Jeunette
Size: Height 147×Wide100mm
Made in JAPAN  

Release date: 20-Jun-15
Price: ¥168 +tax