2015.05.28
From Junie Moon Dolly Wear, everyone's favorite fantasy character is back with "More Tea? Alice" dress sets!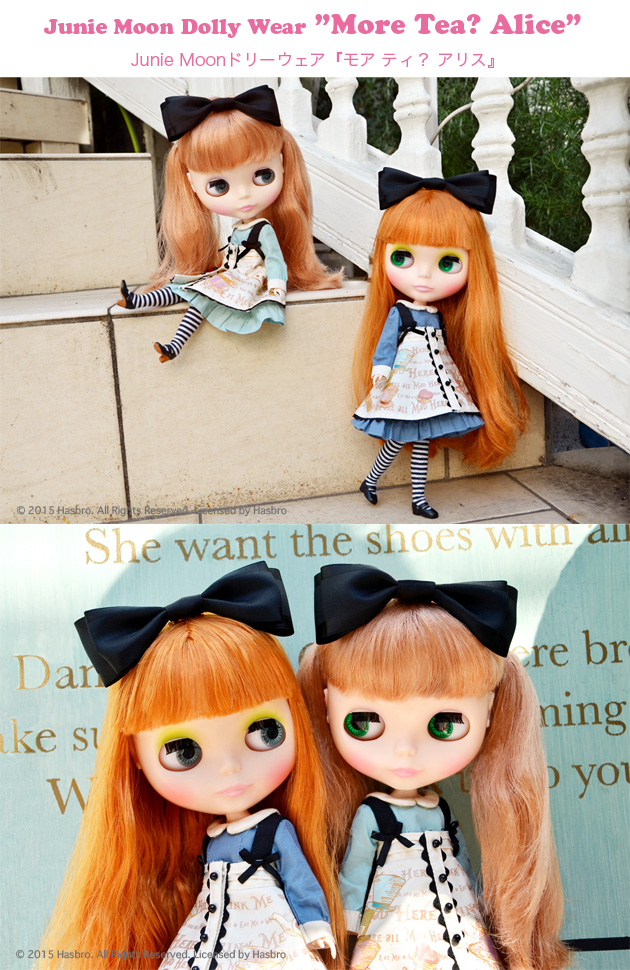 Blythe loves to explore Wonder World, where strange things are common and the people are unique and merry!
From the white rabbit to the cheshire cat, the Queens of the Deck, and the mad hatter... It would be so much fun to have tea at the Crescent Moon Rabbit's Tea Party!
I'll need to wear something special for that occasion, and this Junie Moon Original Alice Dress will definitely be a perfect fit!

The 2015 Junie Moon Dolly Wear Alice set was a simple blue dress with a print on the circular skirt, with a focus on the Wonder World themed apron.
We've increased the stylishness by adding on waveform blades, ribbons, solid buttons, and other considered features.
Her accessories are a large black ribbon with a comb attached and monotone border socks.
The two color tones to choose from are light blue and blue.It would be fun to dress two Blythe in these two colors, gather some other
friends and open up a tea party together!

Junie Moon Dolly Wear "More Tea? Alice"
2 Types
Blue / Light Blue
Size: 22cm Doll Size (Neo Blythe)

Set includes: Dress, Apron, Ribbon, Socks
Package Materials/ card paper, PP bag

*Does not include Blythe Doll or shoes

Release date: June 20, 2015
Price:  ¥8,000

*Preorder information from Junie Moon coming soon!