2015.06.12
CWC limited 14 Anniversary is the A Middie Blythe "Little Duchess georgette" final specification announcement.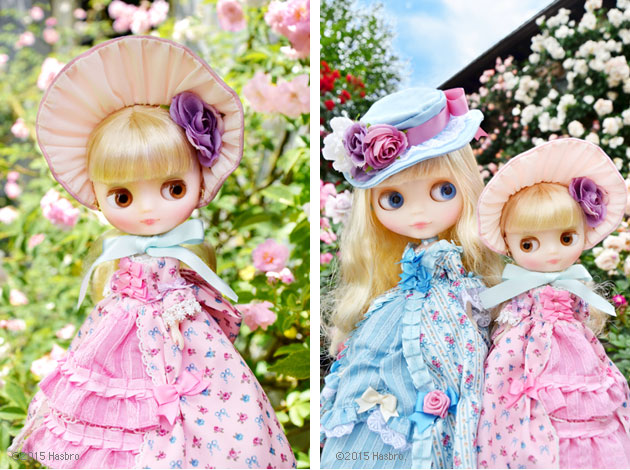 This year, theres not one but two girls who will represent 14 wonderful years of Blythe! Little Duchess Georgette, although small and cute, emits a charismatic presence.
Her loveliness makes everyone around her smile!

Music and art are an aristocratic interest! Demoing the finest fashions and music at a concert is just the first step to gathering ideas for the
greatest
garden parties. Little Duchess Georgette wears a dress made in the style of fashion that many ladies of the Rococo era loved to wear.
Her rosy pink
fabric
with delicate lace and satin are wrapped with ribbons and frills, abundantly using romantic materials.

The ribbons on her chest, the wide open sleeves, and long skirt ballooning from her waist... Little Duchess Georgette befits the title of Anniversary
Doll with her impeccably coordinated fashion!
To go with the dress, a cute bonnet decorated with a purple rose corsage accent and a mint green ribbon to tie under the chin. She also wears a rose printed pair of pink pumps!

Her long blonde hair is slightly permed and cut above the eyes.
Her skin is a translucent cream color, with green eyeshadow, light brown eye lids, with an
especially made light brown eye lashes, giving her a refreshing and lively face. Her cheeks and lips are a delicate pink, with a slight brown line
accenting the corners of her mouth.
The stand is pink.

Face type: Middie Blythe
Skin type: Translucent Cream
Make up: Eyeshadow: Green / Lips: A delicately blurred pink (with brown
lines
in the corners of the mouth) / Cheeks: Pink
Eye color: Green
Eye lids: Light Brown
Eye lashes: Light Brown *Special specification (New Color)
Hair color: Silvery Blonde (New Color)
Earrings: Golden Ribbons

Set includes: Doll, dress, panier, bonnet, shoes, shorts, stand

Release Date: July 31st, 2015
MSRP: ¥15,700

Please check juniemoonshop.com
https://www.juniemoonshop.com/