2015.06.12
Fall in love! Representing 2015,  the final specifications are here for CWC Exclusive 14th Anniversary Doll Neo Blythe Dauphine Dream!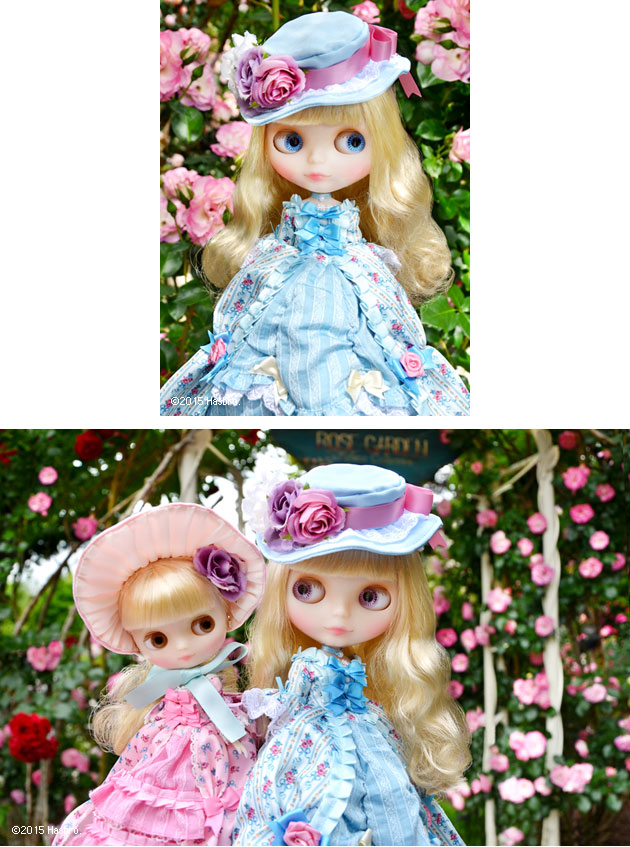 With her well proportioned face, regal posturing, and decorated with many beautiful frills and ribbons, Dauphine Dream is everyone's target of
affection.
Why not experience the 14th Anniversary of Blythe's return with Dauphine Dream?

Rococo in fashion, Dauphine Dream's dress is based off of the clothing the aristocrats and nobles of that age.
A floral and striped pattern create a base for the delicate lace and satin ribbons, with cloth roses sprinkled across to accentuate the romantic nature of the dress. 
A ribbon acts as an elegant collar, her sleeves are wide and princess like, the skirt is filled and volumetric, and the bateau pleats short trainers are refined and pleasing.
Just as an Anniversary Doll should be, this year pulls no punches when it comes to how gorgeous it is.
To match the dress, her hat is as brilliantly coordinated.
A three colored rose corsage is used as an accent, which is paired with a ribbon and lace hat band.
Her small accessories are high quality as well, from the pearl and ribbon choker, ribbon ear ring, and rose printed pumps.

Her long hair is a silver-ish blonde which has been slightly permed and cut above the eyes.
Her translucent, creamy skin is accentuated by the eyes; light blue for the front, blue for the right, light brown again for the front, and
light purple for the left, all of which are special colors.
Her eye lids are light brown with brown eye shadow,
Her eye lashes are light brown, which is a new, enticing color.
Her cheeks are pink, and lips are pink with softened edges, with a light brown accent on the edges of her mouth. Her manicure is
pink.
Her pull ring and short stand are blue.
Her face type is radiance+.

Facetype: Radiance+
Face color: Translucent cream
Make up: Eyeshadow: Brown, Lips, Softened pink (with light brown in the edges
of the mouth), Cheeks: Pink
Eye color: Light blue (front), Blue (right), Light brown (front), Light purple (left) *All special colors
Eye lids: Light brown 
Eye lashes: Light brown *Specially made
Hair color: Silvery blonde (new color)
Ear rings: Ribbon shaped
Manicure: Pink
Set includes: Doll, dress, pannier, choker, ear rings, hat, shoes, shorts, stand

Release Date: July 31st, 2015
MSRP: ¥24,900
Please check juniemoonshop.com
https://www.juniemoonshop.com/