2017.02.02
Junie Moon Shinjuku will open February 22nd, 2017 (Wed)!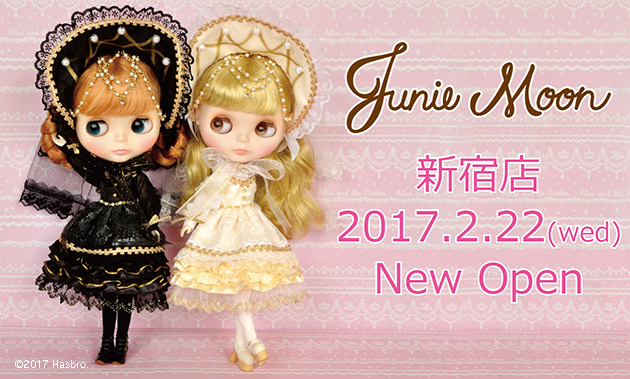 A new Junie Moon store front will open at the Marui Annex on February 22nd (Wed)!
You'll find Blythe Dolls, Blythe goods, JM Dollywear dress sets, and doll sized accessories among many other vital products!
The store is very lolita; you'll even find lolita cosmetic items! As an opening celebration, lolita brand Alice and the Pirates will debut their collaboration dolly wear dress the day of the opening!! Customers who have purchased this item will enter the lottery to purchase Baby, The Star shines bright collab Neo Blythe, Yuki no Namida Hime and Hoshi no Namida Hime!
For more details, please go to the Junie Moon Shinjuku Blog!
All customers who have shopped at Junie Moon Shinjuku will receive a complimentary greeting card between the opening day and February 26th (Sun). We're waiting for your arrival!
Junie Moon Shinjuku
Shinjuku Marui Annex 7th floor 3-1-26 Shinjuku, Shinjuku-ku, Tokyo 160-0022
Open: 11AM ~ 9PM (Closes 8:30PM onSundays, Holidays)
*Closed on days scheduled by Marui Annex