2017.07.07
The Jeffrey Fulvimari Reuse Bottles are here!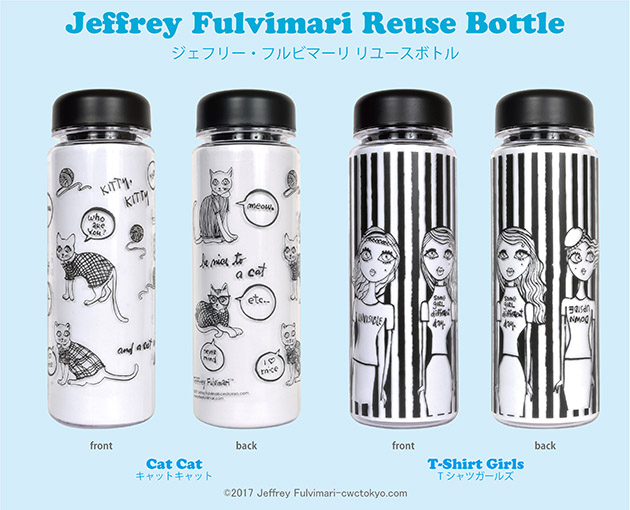 These light and easy to use water bottles are great to lessening your impact on the planet!.
It holds both hot and cold drinks. It even features new illustrations by Jeffrey Fulvimari.
There are two designs to choose from the cool gals in "T-shirt Girls" and the adorable feline friends of "Cat Cat".
The bottle has a splash guard inside to prevent ice and water from splashing out. It holds 500 ml of liquid and has a slim design.
Because of it's wide mouth rim it's also perfect for storing all kinds of dry ingredients too, like granola for your road trip!
Jeffrey Fulvimari Reuse Bottle
2 Types / T-shirt Girls, Cat Cat
Size: diameter6.5 x H19.5cm
Capacity: 500ml
Materials: Polypropylene (cap, inner cap), saturated polyester (bottle)
Thermostability: -40℃~100℃, *Do not use dish washer to clean
Caution:
- Please keep cap screwed on tight for use.
- This product cannot be used as a shaker.
- Vigorously shaking this product may cause the inside to leak.
- This product does not insulate heat or cold. Please drink as soon as possible.
- Do not use in a microwave.
- The material, especially the printing, can be scratched easily. Please use a soft sponge to clean this bottle.
Price:1,800 JPY
Available:August 5, 2017