2023.05.15
Blythe Big T-Shirt" New design!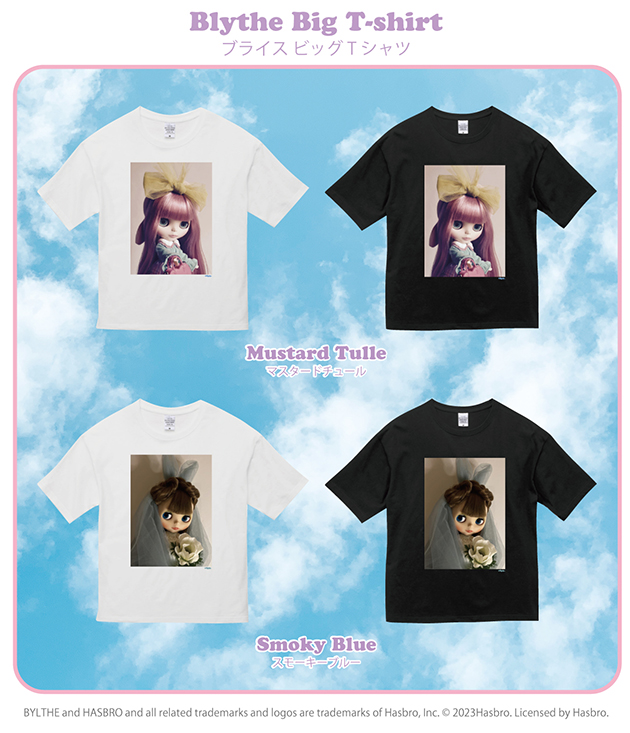 New designs are now available for the over-sized silhouette big T-shirts!
We have added two new designs to this popular t-shirt style that makes the most of new photos of Blythe!
Both designs come on white or black bodies.
The "Mustard Tulle"t-shirt features a photo of Blythe with a large photo wearing a mustard tulle ribbon
and a veil.
The "Smoky Blue" features a photo of Blythe wearing a smoky blue veil and a holding bouquet of roses in her hand.
Big T-shirts are popular items for expressing relaxed and stylish, casual fashion.
They go well with both tight and loose-fitting bottoms so you can enjoy coordinating your look with a variety of casual styles and a wide range of outfits.
Blythe Big T-shirt
Total 4 types: White mustard tulle, white smoky blue, black mustard tulle, black smoky blue
Size: Free size (Length: 70 cm, Body width: 58 cm, Shoulder width: 55 cm, Sleeve length: 23 cm)
Material: 100% cotton
Body made in China, print and finishing in Japan
Retail price: 3,300 yen (3,000 yen without tax)
Release date: Saturday, May 27, 2023